Harman Professional Solutions unveils AMX Incite presentation switchers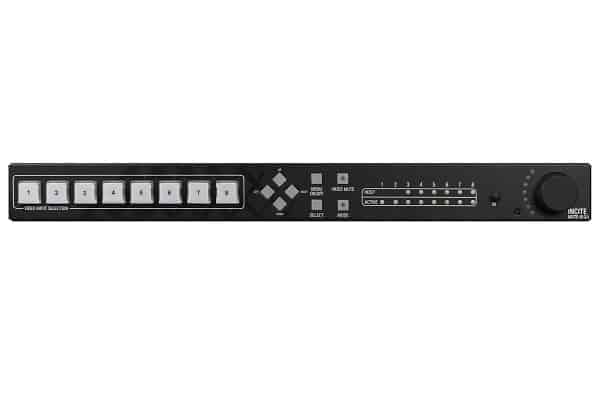 Harman Professional Solutions has unveiled AMX Incite presentation switchers, new professional AV management devices that deliver powerful audio and video capabilities for a wide range of presentation scenarios, including classrooms, conference rooms and more.
AMX Incite systems combine AMX video technology with BSS, dbx and Crown audio technologies to provide support for 4K/60, integrated central control and distance transport. The systems also include video scaling, windowing, audio amplification and processing.
"Universities and corporate facilities with small and medium-sized conference room spaces need unified audiovisual solutions that are easy to purchase, design, install, configure and maintain. The new Incite presentation switchers eliminate the need to purchase multiple signal management devices, and provide exceptional value for customers who need a robust and easy-to-use presentation solution," says Harman Professional Solutions vice president of corporate, education and government Shaun Robinson.
AMX Incite supports 4K video at 60fps on input and scaled outputs to provide current and future support for permanent and visiting source devices connected simultaneously, including 4K and non 4K. Current HD signals can be upscaled, while 4K/60 can be downscaled, providing flexible compatibility from source to display. HDBaseT-based distance transport provides full 4K/60 at 4:4:4 capability over a cost-effective category cable for simple point-to-point applications.
AMX Incite is capable of advanced video windowing with scaling so users can send two sources to a single display in various preset configurations (side-by-side, top-bottom, and picture-in-picture). It will also automatically scale the sources to fit the resolution requirements of the destination display and includes 'live production' style video features, such as transition effects when switching between sources, enabling presenters to add a professional look and feel to presentations.
AMX Incite is easy to purchase, install, configure and maintain. Flexible interface options include integrated web GUI, front control panel and on-screen menu setup. Incite is a Native NetLinx device that can be controlled via native NetLinx ICSP commands, with full feedback and notifications provided for NetLinx integration.
ADVERTISEMENT

ADVERTISEMENT
ADVERTISEMENT

ADVERTISEMENT