Getting the Edge on AVoIP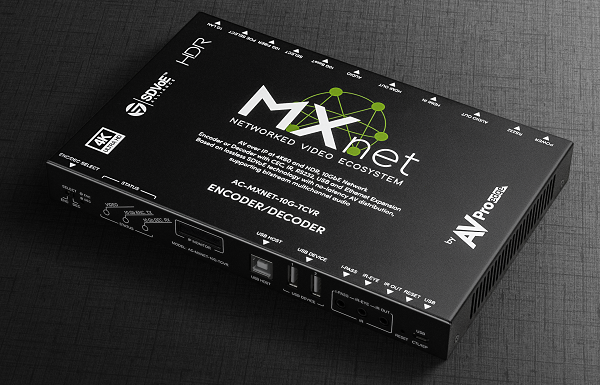 Audio Visual Distributors will introduce the MXNet 10G, AVPro Edge's all-new premium AV-over-IP system, at Integrate 2022.
The new system can provide crystal clear, uncompressed 4K video with versatile AV distribution application support. Applications include point-to-point signal extension, seamless HDMI matrixing, 4K multi-view, multi-window video walls, KVM, and control signal routing from any input to any output through the 10GbE network such as CEC, IR, RS232, USB 2.0, and Ethernet.
This ecosystem is an ultra-low latency system over 10G Ethernet network based on SDVoE standards and SEMTECH ASIC technologies.
The full lineup will include 10G PoE network switches, transceivers that can be switched from encoder to decoder, module cards for audio downmixing, ICRON USB 2.0 over IP, Dante, SFP+ transceivers and QSFP+ transceivers, DAC cables and breakout cables.
The AC-MXNET-10G-CBOX is the brain of your MXNet system and runs the unmatched MXNet Mentor setup, configuration, and testing software.
The CBOX will help system integrators troubleshoot which network switch port connects to which transceiver using the AVPro Edge exclusive switch management feature. This includes real-time bandwidth data, which shows the amount of multicast IP traffic each encoder generates.
A new useful tool for SDVoE systems is input source previewing on the Web GUI through a built-in SDVOE decoder on the CBOX.
The core features of MXNet haven't changed. This system is built on the same pillars of stability, interoperability with any HDMI source, display, USB device, or control system, and easy deployment of the entire system
ADVERTISEMENT

ADVERTISEMENT
ADVERTISEMENT

ADVERTISEMENT