Fireworks in debate: projection enhancing pyrotechnics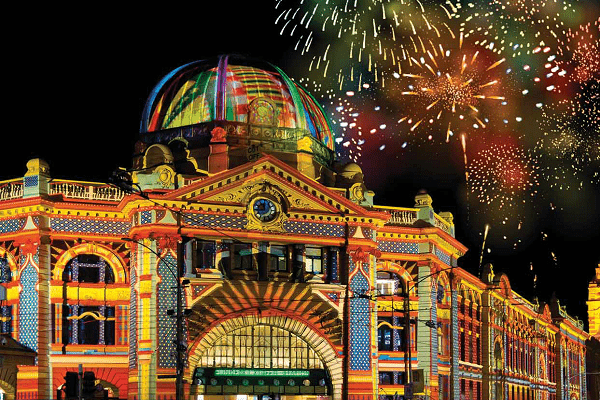 Could projection mapping enhance pyrotechnical display, or even replace them in bushfire-prone areas during summer? Paul Skelton investigates.
At the time of writing this article, more than 100 fires are burning in New South Wales and Victoria.
The latest figures show that more than 18 million hectares have been destroyed, at least 28 lives have been lost and the native animal population has been decimated.
It's understandable then that Australia is a nation on edge, and the target of much anxiety during the summer 'celebratory' months has been the humble firework.
Many city and town authorities had to reconsider whether to hold fireworks displays for New Year and Australia Day celebrations during extreme fire danger periods. Residents worried about sparks causing fires were calling on councils to cancel or change their plans.
The official response from the City of Sydney did little to allay these fears:
"We appreciate the concerns people have around holding the event while large parts of Australia are dealing with bushfires and drought. And we've heard the calls from people to cancel the event and donate the budget to relief efforts," the letter began.
"But we can't cancel the New Year's Eve celebrations. Even if we could, it would have little practical benefit for affected communities.
"We began preparations for the New Year's Eve celebrations 15 months ago. This means most of the budget, largely used for crowd safety and cleaning measures, has already been spent.
"Cancelling the event would seriously hurt Sydney businesses. It would also ruin plans for tens of thousands of people from across the country and overseas who have booked flights, hotels and restaurants to be here for New Year's Eve."
The letter said the annual fireworks display was watched by a billion people worldwide, showcasing Sydney as a safe, inclusive and attractive place to visit.
Further, the New Year's Eve celebration generated $130 million for the state economy and supercharged the tourism industry, creating jobs and supporting countless small businesses.
A few weeks later, Canberra and Queanbeyan officials, among others, cancelled Australia Day fireworks because of the bushfires.
ACT acting arts minister Rachel Stephen-Smith said: "Australia Day is an opportunity for us to acknowledge the many Australians engaged in efforts to reduce the harm and trauma caused by bushfires this season."
Such is the acrimonious nature of the debate that several fireworks companies have decided not to talk to journalists, as they keep being misquoted. It is putting considerable strain on their businesses.
There have even been reports that a Queensland fireworks company was booked for a New Year's Eve celebration and the event was belatedly cancelled by the local council. The proprietor now has hundreds of thousands of dollars of fireworks for which there is no refund, and secure storage will cost a great deal.
But, are fireworks really that risky, and is there an opportunity for AV professionals to offset any perceived threat?
The AV proposition
Cindi Drennan is founder and director of illuminart, a projection mapping specialist based in the bushfire-affected Blue Mountains region of NSW.
Cindi's home office is just 2km south of the Gospers Mountain 'mega fire', which destroyed an area seven times the size of Singapore. Now under control, Cindi was forced to evacuate four times while the fire burned.
Given this proximity, and her 25 years' experience in projection mapping, you might think she would favour a fireworks ban. However, she doesn't.
"The risk of fire starting from fireworks is so small because pyrotechnicians do so much careful planning and risk management. If they didn't, they would never get insurance again and the loss of reputation would put them out of business. They have a great deal of experience and many of them are involved in firefighting too – I don't think we should be demonising the fireworks industry," she says.
"Illuminart is a collective of artists and technicians around Australia. We work collaboratively from our own communities then come together to put on an event. We have five team members in the Blue Mountains, all of whom have been affected by the fires.
"I had to drop a lot of work, prepare for evacuation and move business records into secure storage.
"Another member of the team has two young children. She had to spend days getting the family out of the mountains then work remotely or take leave.
"Another team member in the lower mountains has been taking days off due to smoke affecting the air quality."
The effects of the fires, though harrowing to those in the immediate areas, flow on to the broader community as well, as illuminart has had to delay some projects.
"Replacing fireworks with AV is a topic we get asked about every year. In many cases AV offers an appealing alternative to fireworks, but nevertheless there are lots of assumptions and misunderstandings about these high-impact technologies.
"When it comes to fireworks and projection mapping, people often think you click your fingers and it just happens, because the result feels 'magical'. They don't realise that months might go into the making of a show, regardless of the medium."
Cindi says it's better to think about how we can evolve the ancient craft of fireworks to suit modern times.
"I worked on the Sydney New Year celebration about a decade ago, so I know how many people work tirelessly to produce this show. All of the programming, pyrotechnics and planning is custom-made for the event.
"When people say it's a huge amount of money that should be donated to charity, they don't realise it has already been spent. Cancelling the show would be a waste of money."
However, the conventional approach to large-scale events needs a rethink.
"We need to be more adaptive to deal with the fact that the weather is becoming much more unpredictable.
"Our risk assessment and crowd management procedures need to change, and we need a 'plan B' in case something needs to be changed.
"Whether it's fireworks, AV or some other medium, we should be able to adapt, consider circumstances and be more responsive to the feelings of the community. In the case of recent New Year's Eve fireworks, the communication and the fireworks needed to be able to better integrate a message of hope or healing to help overcome the misinformation, grief and anger."
Togetherness
Cindi says event managers can bring multidisciplinary teams together to create more compelling shows that use the best of all technologies. Projection artists and creative directors should collaborate with pyrotechnicians to produce shows that are more deeply engaging.
As an example of what is possible, in 2017 illuminart partnered with West Coast Fireworks to help celebrate the 50th anniversary of the Exmouth township in WA.
They outlined the history of the Northwest Cape and Exmouth, the community and lifestyle, and the natural environment including Ningaloo Reef and Cape Range.
"We worked closely with the community to develop the show," Cindi says.
"At the request of our client, we incorporated fireworks that were designed to precisely match up with the projected image, as though parts of the image were sparking off the building.
"It was a very exciting process because fireworks as a medium for light are powerful, noisy and exciting, and combined with our storytelling, created a sensational production that won best regional event (WA) at the Australian Event Awards.
"Collaborating with West Coast provided us with insights into the work that goes into fireworks, about the craftsmanship of pyrotechnicians and how difficult it can be to change things at the last minute.
"The result, though, was just perfect – and was accomplished with no rehearsals or practice runs – just very effective communication and planning between illuminart and West Coast Fireworks.
"The interesting thing was that the cost of fireworks in this production was similar to a normal fireworks event, but the show ran much longer and the wonder, excitement and meaning for the community were extremely powerful."
That's not to say that projection mapping is cheaper than fireworks.
"We're contacted regularly by people looking to replace fireworks with AV, but they don't realise that AV may have costs that they haven't considered.
"A little community show might have seven to 10 minutes of fireworks, but that display probably replicates something that's been repeated there and in many other places. It's an 'off the shelf' solution. You're not comparing apples with apples.
"Projection mapping, particularly the first time you do it, is fully customised for the site and it includes many layers of planning and technology, all completely unique for that selected building or environment.
"With fireworks, there are quantities of scale, whereas we're doing something completely tailored for an individual building. And the value, flexibility and potential for meaning in AV is much higher than fireworks, so there are huge advantages to exploring this direction."
Getting into it
Paul Haddad is the business marketing manager for Epson Australia.
"Moving from fireworks displays to AV is very much in line with where we see projection mapping heading in the future," he says.
"Projection can play a big role in outdoor entertainment in particular. It's also great for improving audience participation. It re-imagines what you can achieve at a live event.
"AV can be so much more engaging than a fireworks event, where everyone just stands passively to watch a fleeting spectacle."
Paul has seen a lot of growth in projection mapping in regional towns, particularly in the creation of meeting spaces, at important local events or at a town hall.
But what should nascent projection artists look for in projectors that will cast their work on the facades of buildings, silos and other landmarks?
"For those who know what they are doing, projection mapping can be a fairly straightforward process," Paul says.
"For first-time users, some software offers quick and easy image mapping of the building. But if you want something really intricate, something that people would go out of their way to visit, then a fair bit of planning and know-how is required.
"When it comes to projector selection, the first rule, and the easiest to follow, is that brighter is better.
"Apart from that, changeable lenses are really important as this gives you more flexibility in projector placement.
"The other important aspect is having a sealed optical engine so it can't be penetrated by water or dust."
The future
Cindi says the industry faces a challenge in that technology seems to be dominating the meaning of the work.
"Festivals are exciting to experience, but they can become so big that the reason for their existence is lost – bringing people together to interact, share meaningful messages and feel the power of an important message or cause.
"As a projection artist, I wanted to focus on creating wonder; giving people something to share, inspire and educate with a lasting effect."
She says the future of projection mapping offers incredible value for communities through long-term installations.
"With AV, people can enjoy the spectacle of something large and beautiful on any night, not just New Year's Eve.
"That's where permanent installations are great, because they contribute to the night-time economy of a small town in a more holistic way. And because they're not just a one-off event, they provide ongoing value."
Paul says projection mapping could provide a revenue-earning opportunity for local councils.
"There is a commercial aspect to using projection mapping that just isn't possible with fireworks. Councils can create a revenue stream, which will help to offset the initial cost of the equipment.
"Through projection mapping, can sell sponsorships to local companies and project their details as part of the show."
For Cindi, there's hope for both fireworks and AV.
"I believe it starts with collaboration. I can't understand why more firework displays don't include projection or laser light shows – it can be such a beautiful result."
—
If you would like to help Australia's firefighters, please consider donating to one of the following groups:
NSW Rural Fire Service – www.rfs.nsw.gov.au
Victorian Country Fire Authority – www.cfa.vic.gov.au
CFS Foundation of South Australia – https://cfsfoundation.org.au/