Extron shipping DisplayPort optical cables that deliver 8K signals up to 47m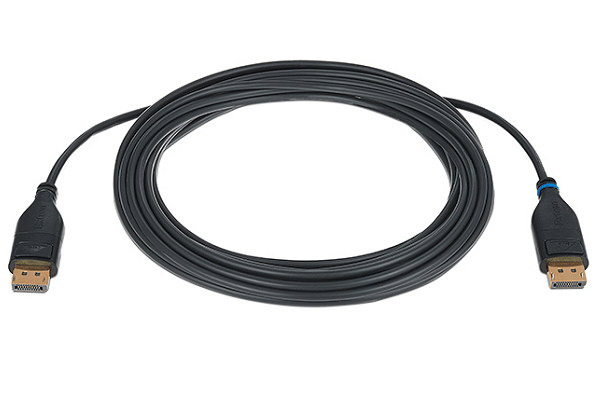 Extron has released the DP Pro Plenum Series of active, hybrid optical-copper cables for the ultra high-speed transmission of DisplayPort 1.4 signals. The cables support data rates up to 32.4Gbps, video resolutions up to 8K/30 @ 4:4:4, HDR, EDID, HDCP, and CEC as well as 32 channels of audio.
At just 0.18" in diameter, the narrow bend radius cable construction facilitates easy installation in tight spaces, including plenum air spaces. The support for 8K video signals over long distances reaches up to 45.7m, offering the benefits of fibre optics with the simplicity of traditional copper cable.
"Our customers wanted a high-performance DisplayPort solution for sending 8K video over extended distances that didn't require transmitters and receivers for every endpoint," Extron vice president of worldwide sales Casey Hall says.
"DP Pro Plenum Series cables are a high-performance solution that conveniently supports the 32.4 Gbps data rate required to transport DisplayPort 1.4 video and maintain uncompromised signal quality."
The DP Pro Plenum Series uses glass multimode fibre, which allows for use in high-interference environments such as data centers and manufacturing facilities. Built-in active circuitry converts the incoming electrical signal into an optical signal on one end and back into an electrical signal on the other. Non-bandwidth intensive or low-speed signals are carried on the integrated copper wires, including EDID, HDCP, CEC and 3.3 V power.