Extron shipping 4K/60 HDMI scalers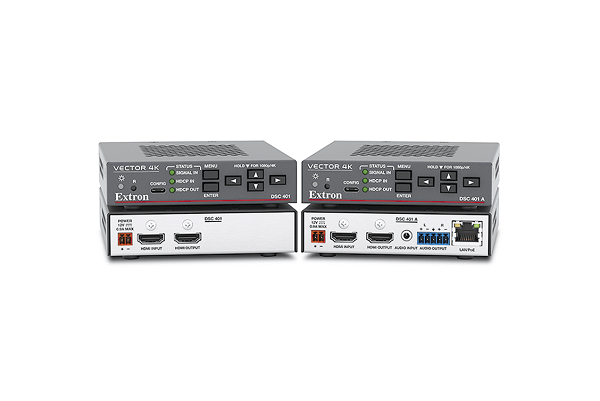 Extron is now shipping the DSC 401 and DSC 401 A high-performance scalers.
Capable of processing HDMI signals up to 4K/60 with full 4:4:4 colour sampling, the scalers support data rates up to 18 Gbps and incorporate the Extron-exclusive Vector 4K scaling engine. Both scalers support 4K/60 signals on a single HDMI connection.
Some of the many shared integrator-friendly features include on-screen menus, internal test patterns, and status LEDs. The scalers are ideal for any environment where high-quality 4K scaling of HDMI signals is required.
The DSC 401 A also provides audio embedding and de-embedding, input presets, logo image keying, and Ethernet control with PoE. Also, built-in web pages enable use of a standard browser for device monitoring and troubleshooting over an intuitive Web interface.
Extron vice president of worldwide sales and marketing Casey Hall says: "Some designs require a compact, 4K/60 HDMI video scaler with just the essential features, while other projects call for a feature-rich scaler that can deliver more functionality, including audio support, high-end presentation transitioning, and logo keying. From the lecture hall to the board room, both DSC 401 models meet the scaling needs for a vast array of professional environments and at the right price."