Extron releases NAVigator LinkLicense for third-party control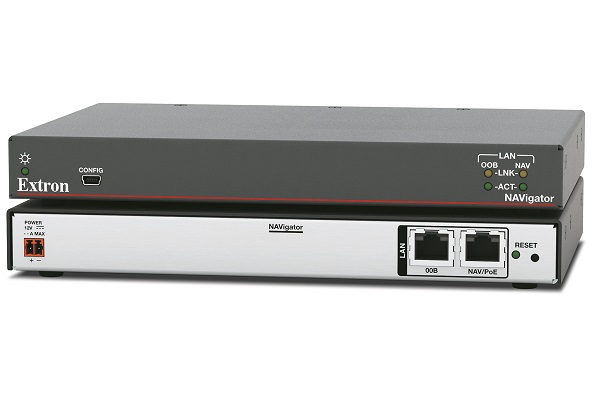 Extron has released a free NAVigator LinkLicense for third-party control, enabling a Secure Shell (SSH) interface that permits SIS commands from third-party control systems to make and break NAV streaming connections in addition to various other system functions.
"With our latest LinkLicense, our customers can integrate the award-winning NAV System with their existing control systems. This empowers our customers to leverage legacy control products while taking advantage of the powerful and innovative NAV platform," Extron chief marketing officer Casey Hall says.
The NAVigator System Manager is required and acts as a secure, centralised communication bridge for end-to-end encrypted control of all NAV endpoints. The third-party control interface facilitates secure switching of NAV encoders and scaling decoders via the NAVigator System Manager as well as the ability to query, configure and control various system status and parameters.
Extron Pro Series control systems must be used for applications that require control of Secure Platform Devices on NAV endpoints such as RS-232 and IR control ports.
The NAV Series is the only no-compromise, Pro AV over IP solution that streams high-quality, ultra-low latency video and audio signals over standard IP networks. Utilising Extron's patented PURE3 codec, NAV delivers groundbreaking performance with real-time, lossless video over IP at resolutions up to 4K@60Hz with 4:4:4 chroma sampling.
PURE3's Intelligent Selective Streaming (ISS) leverages low-motion content to achieve extremely low bitrates while maintaining visually lossless performance with robust immunity to network errors. The NAV Series is the only solution that offers full interoperability between 1 and 10Gb Ethernet encoders and decoders.
ADVERTISEMENT

ADVERTISEMENT
ADVERTISEMENT

ADVERTISEMENT