Extron introduces USB-C to HDMI interface designed for ProAV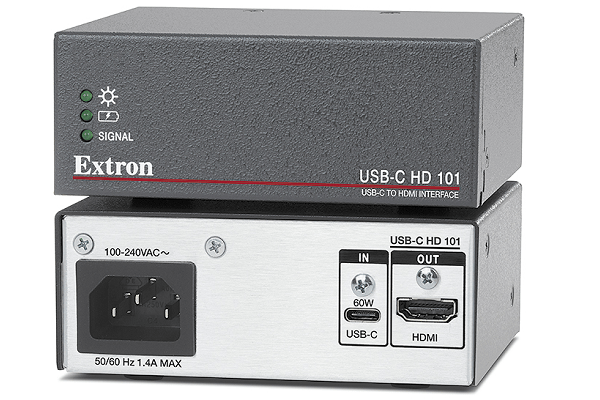 Extron has introduced the USB-C HD 101 interface that converts USB-C signals to HDMI, giving integrators an easy way to integrate USB-C sources into an existing AV system.
Providing up to 60W of power to charge a connected USB-C source device, the interface supports USB-C alt mode video resolutions up to 4K@60fps for use by any AV device or system with an HDMI input.
"With the growing number of source devices that have a USB-C output, we know integrators are looking for simple and convenient solutions that integrate USB-C signals into new and existing spaces," Extron vice president of worldwide sales and marketing Casey Hall says.
"Offering high quality USB-C to HDMI signal conversion and the ability to provide up to 60W of power to a connected device, the USB-C HD 101 is a versatile, compact solution that fits easily into any installation."
It features an internal Extron Everlast power supply that uses USB power delivery to provide power and charging capabilities to a source laptop. For convenient mounting, it can be located within furniture or under a table using the included ZipClip 200 mounting accessory.