Extron delivers Quantum Ultra II FOX3 Fiber Optic Cards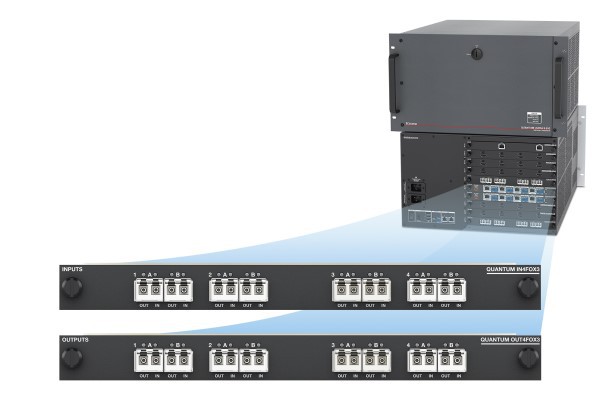 Extron has delivered the Quantum IN4FOX3 Series and Quantum OUT4FOX3 Series of input and output cards that facilitate integration of an Extron Quantum Ultra II videowall processor within a secure FOX3 distribution architecture. Each card offers four channels of connectivity.
Incorporating exclusive technology to distribute pixel-perfect, uncompressed video up to 4K/60 @ 4:4:4 over two fibres or mathematically lossless 4K/60 @ 4:4:4 over one fibre, Quantum Ultra II's Ethernet to RS-232 insertion enables control data to be transmitted alongside the video when a bidirectional fibre configuration is employed.
"We are excited to bring AV and control signal extension over fibre to our award-winning family of Quantum Ultra II videowall processors," Extron chief marketing officer Casey Hall says.
"The new Quantum FOX3 input and output cards allow Quantum Ultra II to contribute to an entire FOX3 fibre ecosystem, giving our customers pixel-perfect images delivered at the speed of light."
Quantum Ultra II videowall processors provide advanced connectivity and throughput capabilities. The expanded HyperLane video bus delivers unmatched real‑time performance with a throughput of up to 500 Gbps. The new fibre optic cards provide signal extension at extreme distances with no loss of signal integrity.
The input and output cards support four channels of 4K/60 content at 4:4:4 with full HDCP 2.3 compliance, and 8K/60 sources can be accommodated as a quad-path signal. Embedded HDMI audio from any source can be routed to each active canvas. The processor can support multiple videowalls with mixed resolutions and screen orientations.
Features such as portrait and landscape output support, output overlap and custom output resolutions ensure compatibility with most displays. RS‑232, USB and Ethernet interfaces provide direct connection to control systems.
ADVERTISEMENT

ADVERTISEMENT
ADVERTISEMENT

ADVERTISEMENT