Extron announces new 4K/60 4:4:4 HDMI DTP2 wallplate transmitter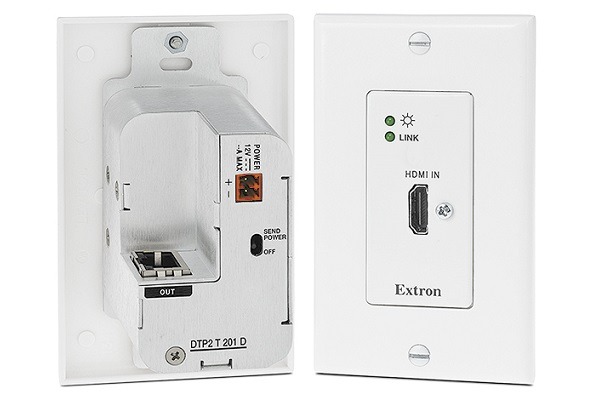 Extron has introduced the latest DTP2 T 201 D, a one-gang decorator-style transmitter for sending HDMI signals up to 100m over a shielded CATx cable to an Extron DTP-enabled product
Supporting video resolutions up to 4K@60 at 4:4:4 colour sampling as well as HDCP 2.3 compliance, the one-gang wall-mountable form factor of the latest solution gives end users and integrators the convenience of placing AV connectivity exactly where it's needed.
"Providing AV connections in tight places and extending those signals over long distances continue to be a challenge for integrators," Extron vice president of worldwide sales and marketing Casey Hall says.
"The wall-mountable form factor of the DTP2 T 201 D addresses this challenge and enables remote transmission of 4K/60 signals within our complete line of DTP2 products."
It facilitates reliable transmission of HDMI signals, supporting CEC pass-through and embedded HD lossless audio formats.
To ensure direct compatibility and optimal signal transmission between devices, DDC communication of EDID and HDCP is continuously maintained between a source and display.
The DTP2 T 201 D wallplate transmitter can be used in point-to-point applications or integrated with an Extron IN1800 Series presentation switcher or other DTP-enabled products to support sources at remote locations.