Extend display with 4K docking station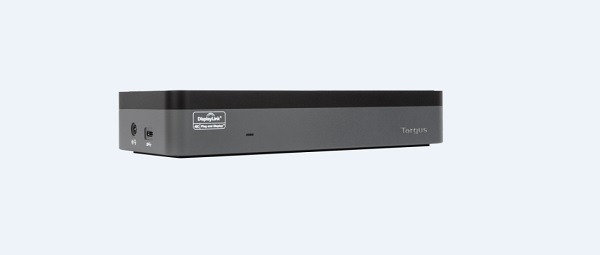 Targus has released its new quad 4K docking station which can deliver 4K to four extended displays with no software required. The company debuted the product for the first time at InfoComm last week.
The plug-and-play DOCK570USZ uses dual DisplayLink DL-6910 chip technology to support up to four DisplayPort or HDMI displays. Users connect the dock to a host, such as a laptop, and then to the displays and extend the host screen via monitor settings.
The dock is universally compatible, working with systems such as Mac, PC, Android, Linux Ubantu, Thunderbolt 3 and other USB-C hosts. The dock is also equipped with a USB-C to USB-A adapter to support USB-A hosts. It includes a universal charging solution that uses legacy charging tips to power a variety of laptops.
It also include a 1GbE port and a 3.5mm combo Audio In/Out port.
Targus vice president of global marketing Andrew Corkill says the simplicity of the product means teams can get displays up and running in minutes, and for a fraction of the cost of comparable digital signage solutions.
"Being able to just plug-and-play to run four 4K displays is revolutionary and will mean that more companies can manage their display needs – from tradeshows to showrooms, office lobbies to advertising screens – with less time, cost, and lost productivity."