Epson projectors (and coffee!) impresses at Integrate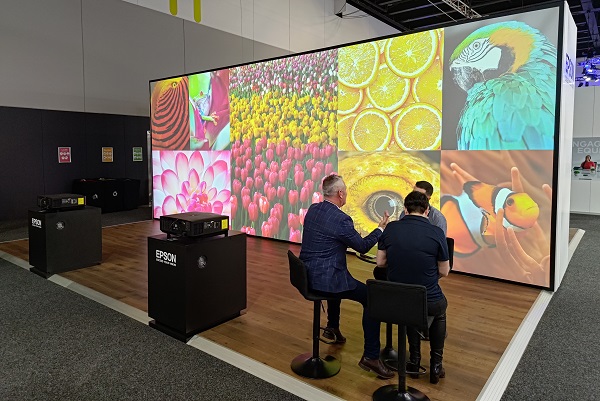 Few people could miss Epson's prominent stand at Integrate and it arguably received the most repeat traffic from having the best barista on show (and the standard was high).
The coffee-bar-themed section did more than attract passers-by though, as it enabled the company to show off its spotlight (ultra-short throw) projectors which beamed impressive, high-contrast messages, menus, and atmospheric graphics onto its dark walls via content from a USB key, SD card and Ethernet connections. All content (and its scheduling) could be programmed over the network.
Epson also sported one of the largest, brightest, most-vibrant, highest-resolution (4K), seamless-multi-source, images in the show (9 x 3.6 metres) using two laser projectors (a third can be added to add another 4.5 metres to the image). You don't need to line two different images up by eye, either.
We were told: "Cameras in the front manage the alignment of each projector. You send the same image to both projectors and there'll be a 25% blend in the middle."
This is enabled by a single master-slave cable connector between the projectors, and the smarts within ensure there's no bright spot in the middle. We were told that the automation cuts 30 minutes of manual alignment down to three minutes.
The models that created this particular display supported 20,000 lumens but many other sizes are available. Image size is determined by the combination of light source within the projector body and up to 10 different lens options.
Epson boasted that these were the smallest 20,000-lumen projectors in the world, with rivals typically weighing 50KG while these were just 24KG. Epson told us that use-cases revolve around: "large venues like school halls, churches, convention centres, casinos and stadiums."
Epson also said that they're half the price of an equivalent LED wall.
The company also showed how stacking different projectors could produce a single, brighter image – in this instance a 16,000-lumen projector was teamed with a 13,000-lumen projector to produce a 29,000-lumen image. However, we were told that doing this results in a loss of roughly 20% brightness.
Epson said there were some key reasons for doing this. A single 20,000-lumen (equivalent) projector retails at $87,000. However, the 16,000-lumen projector retails at $37,000 while the 13,000-lumen projector retails at $25,000 meaning the combined cost is $62,000 – equating to a saving of $25,000(!)
We were also told that the combination solution provides more flexibility: "For a venue like this, for example, they could use this system this week, but the next week they don't need that brightness, so now they have two projectors they can use."
We were given a real-world example: "Last year we a had a client with a $200,000 budget for four projectors. But they ended up buying 16 of ours. They could double-stack them, combine them for a multi-directional, larger image, or use them side by side and, when they needed to, they could use all 16 individually."
ADVERTISEMENT

ADVERTISEMENT
ADVERTISEMENT

ADVERTISEMENT