Elite Screens releases Light-On CLR 3 series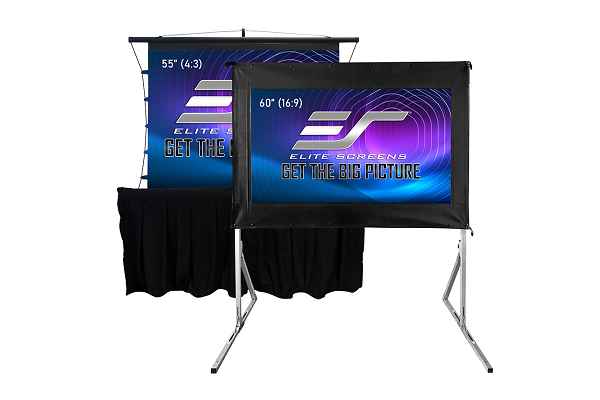 Elite Screens has released the Light-On CLR 3 series of Ceiling Light Rejecting (CLR) solutions, a CLR series designed to work only with Portable Ultra Short Throw Projectors that combat the wash out effect in bright ceiling light rooms, such as classrooms or living rooms.
The portable Light-ON CLR 3 series uses an innovative micro-structured front projection material that is designed to absorb overhead light which results in retaining a contrast-rich image.
While matte white screens are not meant to be used in rooms where light cannot be controlled, as projected images lose detail and contrast rendering the presentation unwatchable, Light-On CLR 3 series screen material has an 80 times contrast improvement over matte white under ambient light room conditions.
CLR 3 Ceiling Ambient Light Rejecting material absorbs up to 90% of overhead lighting while its wide viewing angle allows viewers to see a bright uniform picture from any angle. Its micro-serriform optical structure also filters out ambient light that produces contrast rich images, and the black-backing (non-opaque) enhances image brightness.
Projecting within a short distance without shadowing the picture, the Light-ON CLR 3 is compatible-only with tabletop-mounted ultra-short throw projectors.
The portable products are available in a 55" (4:3) tripod and 60" (16:9) folding-frame variant.
The 55" Diagonal Tripod's pull-up retractable design includes a keystone eliminator and its lightweight black housing has a carrying bag for protection and storage. The black tripod skirt also provides an elegant and professional presentation.
The tab-tension design of the tripod provides a flat and taut projection surface while the Top/Bottom black masking borders absorb projector overshoot and enhances picture contrast. In addition, a carrying bag is also attached for easy transportation, protection and storage.
The 60″ Diagonal Folding-Frame projector screen design features material stretches on frame with the use of corner pull-tabs with snap buttons. With adjustable legs to accommodate various height settings and a back brace support on its legs for improved stability, the design's collapsible folding-frame makes for an easier assembly process.
It's padded carrying bag fits the entire product for protection and portability while the four-sided black masking borders absorb projector overshoot and enhances picture contrast.
ADVERTISEMENT

ADVERTISEMENT
ADVERTISEMENT

ADVERTISEMENT