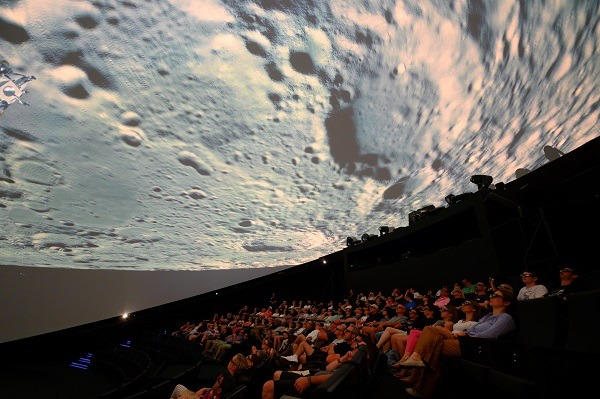 Kraftwerk Living Technologies spent two years installing an immersive dome that's packed full of AV technology. Sean Carroll finds out more about the award-winning project.
If you ever find yourself sailing down the Neckar River near Heilbronn, Germany, you will come across a striking building that looks a bit like a small skyscraper and a Rubik's cube had a lovechild. That would be the experimenta – Das Science Centre and it houses a 726m² dome that features a breathtaking display of AV technology.
"experimenta is the largest science centre in Germany and the science dome is a unique multipurpose venue featuring the latest in stage and AV technology," Kraftwerk Living Technologies director of sales and marketing Kevin Murphy says.
The Austrian-based Kraftwerk Living Technologies was named as general contractor for the now-patented dome project, including the complete implementation of the attraction.
"The project is quite unique and we worked closely with the client team to develop something new and special that made maximum use of the space. It has two operating modes: in the event mode, a stage as well as a screen area is available or events such as lectures, digital cinema performances or theatre and music productions," Kevin explains.
"In dome operations, the full 726m² dome can be used for 3D movies and planetarium shows, involving the audience in the transition from stage to dome is a highlight of every show."
You read that right, the dome is huge. More than 800 individual products are used in the operation of the system with 12 4K projection channels that produce an outstanding 8K x 8K resolution and razor-sharp images while six high performance RGB laser projectors are equipped with laser light sources for exceptional brightness and image intensity.
The video is well above cinema standard due to the increased colour space, HDR contrast and 6P laser filtering for superior 3D stereo display. On top of that, it boasts state-of-the-art immersive 3D audio technology and comes with a Zeiss optomechanical (LED illuminated) star projector, a leader in planetarium projection systems.
Outside of the AV capabilities, there are a number of integrated special effects such as show laser, holographic screen, water, fog and wind, as well as spectacular lightning discharges via several Tesla coils.
The space surrounds a revolving turntable that further immerses guests in the AV experience.
"What struck me personally was running through my first show. After a short demonstration on the stage, the lights dropped and it all went quiet and I couldn't hear a thing. But when the image started to appear on the dome, I realised we were already moving and rotating in to position – seamlessly and silently," Kevin outlines.
Barco supplied six XDL 4K-60L projectors for the dome in 2D, as well as the 3D in 4K resolution at 120fps. A Zeiss optomechanical star projector, as mentioned earlier, was needed for the planetarium element and integrated into the Dome set-up, as was a cinema projector, for which a Barco DP4K-30LRGB laser projector was installed.
Kevin adds: "The 3D video is seen through passive colour separation glasses, the highest performance 3D solution in our eyes and avoids the use of powered active glasses. This was the first use of the new 6P RGB projectors, and we worked very closely with Barco during the planning and design of the project."
What's more is that the experimenta dome wasn't intended to end up how it did. Originally, the client wanted two separate buildings but this plan proved to have some challenging constraints. Kevin explains that Kraftwerk Living Technologies suggested they combine two separate ideas of a dome and turnstile into one.
He also points to the location of the dome helping to shape the final design: "With experimenta being located on an island in the Neckar River, exhibition space was limited along with that for the science dome and this drove the reasoning behind cramming so much into one theatre," he says.
Despite its sheer vastness, one of the prerequisites for the project was to implement a system that enables single-operator control.
"Regardless of how many available technologies, SFX and gimmicks there are, the show control system was designed in a way to make its operations not only intuitive but also simple," Kevin says.
It's also very versatile with applications as a 3D immersive dome or 2D traditional theatre space.
"There is a wealth of film content available for fun and education that can be presented on the tilted 180 degree dome, but experimenta also produces its own shows and content. In addition, when used as a planetarium for space presentations, experimenta allows presenters to take guests on fully real time interactive journeys across the universe," he says.
"We have a lot of interest in hybrid dome for use in science centres and also in museums as well as from theme parks and entertainment venues, looking for an exciting new type of theatre that makes maximum use of the space and gives an experience that is totally unique."