Decoder card to enhance Quantum Ultra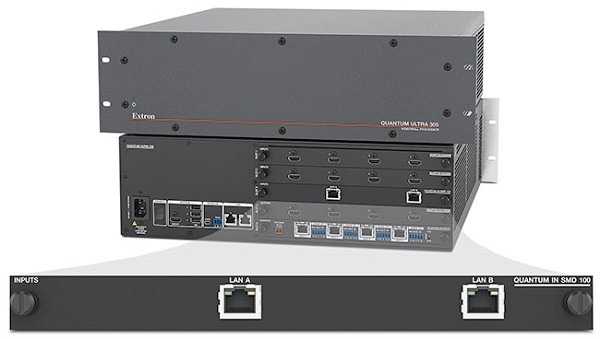 A new decoder card will enhance the capabilities of Extron's Quantum Ultra videowall processor.
The Quantum IN SMD 100 multi-channel H.264 decoder card can decode up to four 1080p/60, eight 10/80p/30 or 16 SD resolution streams from IP cameras, Extron streaming media encoders and other H.264 encoders. Compatible with H.264, MPEG-2 and Motion JPEG, it streams at bit rates of up to 40Mpbs.
It includes two independent network ports, allowing streams to be distributed across two different subnets. It also supports push-and-pull streaming session management, and is compatible with a wide variety of streaming devices.
Extron vice president of worldwide sales and marketing Casey Hall says: "The new multi-channel H.264 decoder card extends the capabilities of the Quantum Ultra by providing hardware decoding of streamed video, making it ideal for traffic management and security environments."