Crestron partners with ekey to provide fingerprint access for smart homes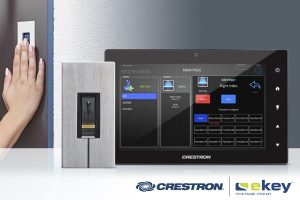 Crestron has announced it has partnered with ekey biometric systems GmbH (ekey), to provide fingerprint access for Crestron smart homes.
The collaboration will allow for the ekey finger scanners to integrate with Crestron 3-Series control systems. This will allow integrators to "introduce convenient one-touch door entry to their smart home designs," according to a Crestron press release.
"Ekey and Crestron took up the challenge of making door entry more secure and convenient. To deliver on that, we focused on one of the aspects that makes us unique as human beings – fingerprints. Now, in essence, your finger is the key to your Crestron smart home," said Crestron global residential marketing manager Michael Short.
The security benefits of fingerprint door entry are numerous, eliminating hackable four-digit codes, the threat of theft and the possibility of key or access card forgery. The software even detects the growth of children's' fingers, minor injuries, and habit changes.
"As a specialist in fingerprint technology and a proven vendor of outdoor rated fingerprint readers, we are very excited about our partnership with Crestron and the possibilities of this advanced integration. It's like turning Crestron into a biometric access control system by itself, featuring simplified administration centrally via a Crestron touch screen, for example. By saving multiple fingerprints of individual users, different functions can be triggered. Whereas your right index finger will become your new key for unlocking your front door, your left index finger will trigger a silent alarm when used under duress," ekey explained in a statement.
ekey products are currently compatible with Crestron 3-Series control systems with a RS-485 COM port and SIMPL Windows software.