Crestron delivers first dedicated device for audio conferencing and smart home control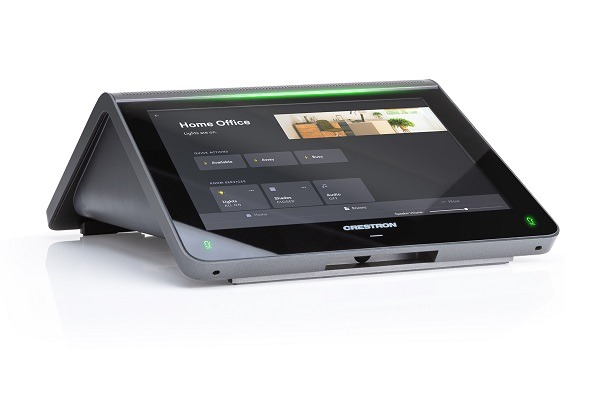 Crestron has released the smart home office companion, the Crestron Home Audio Conferencing System or UC-MM30-R which delivers enterprise-quality conferencing plus control of the Crestron Home automation system.
Ideal for the home office solution of today's work-from-home workforce, the UC-MM30-R is designed to easily convert any office into a conferencing space.
The modern, low-profile design includes a 7" high-resolution touch screen, a high-fidelity speaker and a four-microphone array that captures 360°, long-range pickup. Crestron says that colleagues won't be able to tell if you're at home or in the office.
It's the dedicated audio device for meetings launched from a PC or Mac device. From the touch screen, users can control call volume as well as the entire Crestron Home system, including lights, TVs, thermostats, security cameras and more.
Scenes and schedules made with the Crestron Home system can be customised to adjust any combination of devices at once; for example, launching the call setting. With an 'On A Call' scene, the lights brighten, shades close, music pauses and an indicator light outside the door turns red. When the call ends, users can tap to start their 'Off A Call' scene which then deactivates the indicator light, restarts the music and adjusts the lights and shades.
Users can call in using Microsoft Teams or Zoom Rooms, Slack, Google Meet and other conferencing applications.
"Today's hybrid workforce has realised they need their home office spaces to provide flexibility, reduced complexity and the organisational functionality that they have when they are in their workplace, but the current solutions on the market don't offer enterprise-grade robustness nor integration with high-performance home control solutions," Crestron vice president, residential John Clancy says.
"The Crestron Home Audio Conferencing System uniquely provides today's executives the high-performance conferencing solutions they're used to at work, in their home."
The UC-MM30-R requires no custom design or programming when added to a Crestron Home system by a Crestron dealer. It can be connected via WiFi or Ethernet communication links, with PoE for remote management and monitoring.