Crestron bids goodbye to dead thermostat days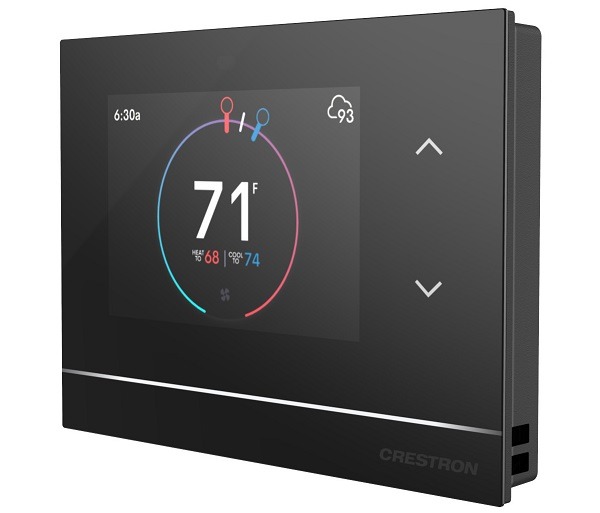 Crestron has launched the Horizon Thermostat, a touch screen smart thermostat that ends the dreaded replaceable battery design for a simple two-wire install into any thermostat location.
The Horizon Thermostat provides reliable control of the temperature and humidity throughout an entire home for a more refined, convenient, and always-working home environment. It is a design-first device that can react to dynamic routines in response to data from onboard temperature, humidity, and proximity sensors.
When integrated with the Crestron Home platform, it can act in concert with other smart devices like lighting and shading to ensure optimal comfort, convenience, and energy savings.
With a high-resolution 3.5-inch LCD touchscreen display and an auto-adjustable backlight that toggles between day and night mode depending on time of day or user preferences, the Horizon Thermostat is a professional grade device with a luxurious and intuitive aesthetic. The RGB-backlit accent and status lightbar complements the display while the ambient light and proximity sensors ensure the thermostat is always discreet, but visible when you need it.
Crestron executive vice president for residential, John Clancy says the Horizon Thermostat was designed to satisfy aesthetics, control and functionality.
"Crestron has a legacy of designing and manufacturing products that are built to last. The Horizon Thermostat is no exception, offering the powerful Crestron backbone of control that we stand behind and support end-to-end."