Concealed AV: Blink and you'll miss it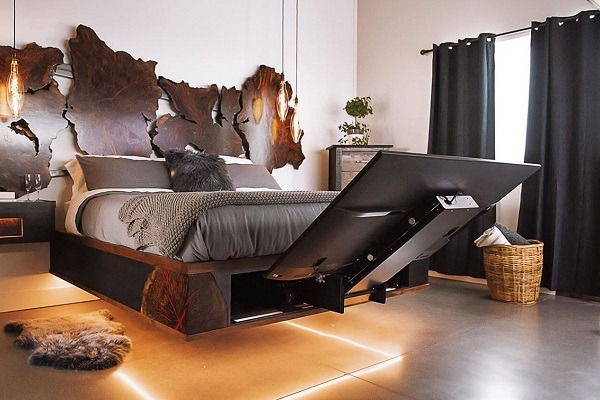 Technology can be a beautiful thing, but sometimes we want it to be heard and not seen. Plenty of integrators and manufacturers are finding ways to conceal technology. Sean Carroll writes about the trend.
It seems counterintuitive to purchase these extravagant AV solutions, figure out the optimal placing around the house and then essentially hide them.
Instead of showing off these impressive pieces of technology, there's a cohort of end users opting to hide the tech, going for a cleaner, simpler look.
As to why technology is getting harder to see, there are several responses, some touting the theatre of it, some pointing to the practical benefits and some saying that concealing technology is just much easier to do now.
"Everyone has been kind of trying to hide speakers for a long time, that's part of the reason there's a custom install loudspeaker industry in the first place," Amber Technology brand manager Stephen Small says.
"In the early days, guys would get boxed loudspeakers and cut the front baffle out. And that was to try and make the audio blend more into the space."
Filling the void
A large 4K TV or high-end speakers give end users a beautiful AV experience when at home, but for when they're not on, these solutions might be considered eye sores. Building on that, they take up valuable space in someone's home, space that could be used in another way.
"While a large display gives homeowners a fantastic media experience, they can become an imposing blank void when they're not in use," Canohm national sales manager for commercial & custom Cameron MacKertich says.
Canohm distributes Future Automation which is a design-led engineering company that specialises in AV mounting and concealment solutions for smart homes, commercial spaces and superyachts. It also distributes Amina, the invisible loudspeaker company.
"The display also either takes up valuable wall space or needs a piece of dedicated furniture to be placed on top of. This limits the placement of furniture and artwork, which is a vital component of creating a functional and comfortable space," Cameron says.
Additionally, interior designers and architects would be over the moon to know a huge part of the living space can be completely hidden. Instead of designing the space to accommodate a large black screen, the designer can do what they please.
"End users, interior designers and architects have created the desire to have hidden tech, but it is the integrators that show them the potential and what is available on the market today," Stealth Acoustic vice president Brian Azzano says.
But who initially had the idea to hide the AV? It's a classic case of the three-way chicken or the egg: was it manufacturers, end users or integrators who decided to conceal technology?
Amber Technology's Stephen says that there is no single answer. Depending on the situation at hand, it could've been either of the three, but obviously there must have been a push from somewhere for manufacturers to start creating them.
But this kind of technology didn't start with a big bang; as mentioned at the start, the better the technology gets, the better we are at hiding it.
Seeing isn't believing
The first part of the integrator's world that comes up when talking about concealing technology is audio. The idea of having a dedicated space or whole-house audio that can't be seen is amazing, especially when that audio reaches the high-end custom installation level.
There have been several companies spawned out of creating only concealed audio solutions or companies branching out into this area. In the mid-2000s, Sonance had a line of invisible speakers from before purchasing the company, Sound Advance, in order to create their own, controlling R&D.
"But over the last couple of years, Sonance has been engineering, behind the scenes, the new invisible speaker, which they recently released. And one of the big things was physical space, because it's always been the case that they tick the box from an aesthetic and interior design point of view," Stephen says.
The Anima range of loudspeakers, from Canohm, works similarly and uses distributed mode loudspeaker technology (DML) by working with the fabric of the building, not against it.
"Using this as our soundboard, alongside our innovative patented panel material we replicate the way a natural musical instrument effortlessly fills a space. We work with these good vibrations, not against them, to produce high clarity, room filling sound," Cameron explains.
The Anima range has two core invisible speakers, the Edge range that is plaster up-to product and the Mobius range that's fully plastered/covered. It gives integrators the ability to fill their space with whatever material they want, marble, leather, wood and so on.
"Unlike conventional speakers, that push sound in a directional manner, our unique drivers 'excite' their surface and create 180° dispersion. The immersive nature, and wide dispersion means less speakers and great results even in spaces that are acoustically harsh," he says.
An added benefit of the Anima range of concealed speakers is that it's happy being installed in more places than just one dedicated room, it can be used as whole house audio. Anima produces three invisible subwoofers to enhance the system: "These have small ports which can be easily disguised as air conditioning vents or hidden in skirting boards."
But what about outside? Some people might buy an off-the-shelf Bluetooth speaker and call that outdoor audio but there are plenty of high-end solutions for outdoors too, all weather resistant.
I spoke with Amber Technology general manager Richard Neale, among others, in the Summer 2020 edition of Connected about outdoor audio, what's going on in that space and the latest innovations.
One of these innovations was the use of rock speakers, loudspeakers that come in a natural-looking rock casing, making it look as though it's just another aspect of the surrounding environment. That article looked at how integrators could ensure the best outdoor acoustic listening experience for their clients, rock speakers included.
Stealth Acoustics is a US-based manufacturing company that is primarily known for building premium invisible speakers.
"Invisible Speakers are designed for deployment in any area that can benefit from wide-dispersion sound or need the flexibility to place a speaker in an unconventional location – as there are no grills to draw the eye," Brian explains.
"The speaker is made from fibreglass so useful in humid or high moisture-prone areas. Most importantly, the LineaResponse Invisible Speakers go perfectly with interior designer's visions as there is no aesthetic impact on their work."
The monster under the bed
Some brands have opted to hide the technology altogether, using motors and typical elements of a room to hide a screen or other AV element.
Future Automation's products make use of its sturdy mounting technology to let users hide their screens under the bed, behind a wall or in the room.
It can quite literally be the monster under the bed. Once the user gets into bed, they can trigger the Future Automation mechanism and the screen will move up from underneath and position itself at the end of the bed, at the perfect viewing angle.
"Popular concealment solutions we offer include in-cabinet hidden display lifts, moving artwork, motorised walls, sliding panel systems, in-ceiling projector drops, in-floor display lifts and speaker lifts," Canohm's Cam explains.
"However, as we offer a bespoke design service there's virtually no limit to the types of concealment solutions we can create. We also manufacture enclosures for all popular smart home control systems which our team of enclosure wiring specialists preconfigure, so they ship to site ready."
While the traditional installation would be a bedroom or living room, the malleability of the solution sees it installed in yachts, terraces and home cinemas among others.
Stealth Acoustics has also been moving into the video space with its large-format LED TV entertainment systems that can be completely concealed. These solutions are both for aesthetic and practical reasons as the most popular Patio Theatre is designed for outdoor use.
It comes in three versions of complete outdoor cinematic entertainment solutions ranging from 103″ to 273″ and beyond. The Extreme, Transformer and Megalith all feature large format, ultra-bright, LED screens designed to be viewable in broad daylight.
Brain adds that the Patio Theatre can be controlled independently or as part of the entire smart home control system.
Open your eyes and smell the speakers
Whether it be indoor, outdoor, audio or visual, integrators and manufacturers are getting much better at hiding technology. There's definitely backing from distributors and it's no longer a question of good audio or concealed audio, there are solutions catering to both.
"People want the convenience and the 'cool factor' that smart homes and increasing smart home technology can offer. People want to live in clean, sleek, and modern homes without the impact of technology," SA's Brian says.
"SA believes that the potential for Invisible Speakers or the hidden tech category as a whole is enormous. We have only scratched the surface. In the future, Stealth believes almost all technology will be hidden in some way."
Now it's out there, and as this side of the industry grows, we're going to get exponentially better at hiding our tech. It's exciting.
ADVERTISEMENT

ADVERTISEMENT
ADVERTISEMENT

ADVERTISEMENT