Chief expands Impact series, includes landscape on-wall solutions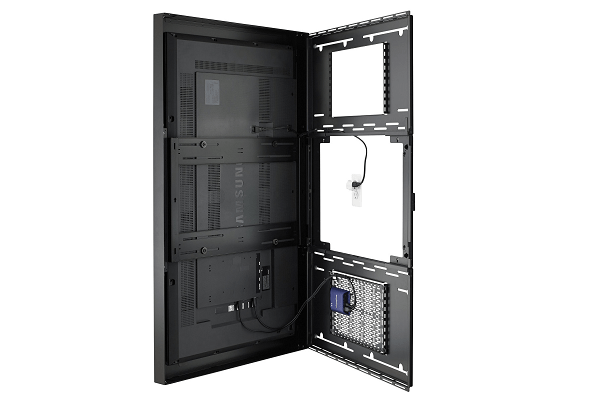 Chief, a Legrand brand, has introduced a new landscape format of on-wall kiosks to the Impact product family. The Impact Landscape On-Wall Kiosk brings new flexibility to the digital signage enclosure market while maintaining a sleek aesthetic to complement a variety of environments.
A depth-adjustable exterior frame gives integrators a wide selection of displays that can be used while meeting minimum protrusion depth requirements with the kiosks available in 49", 50" and 55" sizes. The new scissor arm design enables 8" of extension providing unparalleled service and maintenance access.
"We're excited to offer even more flexibility and serviceability to our Impact Kiosk series while maintaining the same slim-profile and design aesthetics of our current portrait kiosks," Chief product manager Luke Westin says.
The solution joins the line of Impact on-wall kiosks available in black or white finishes. An integrated wall reveal compensates for uneven walls to keep the frame plumb and provides passive cooling while a universal storage plate, featuring Middle Atlantic's Lever Lock technology, holds supporting equipment.
Impact freestanding base accessories for single-sided and back-to-back models are also available and all products are tested and approved to UL 2442 ensuring safety for interactive use and servicing.
"Freestanding base accessories preserve floor finishes and accommodate movement of kiosks in temporary installations," Luke says.