Certification: The key to the future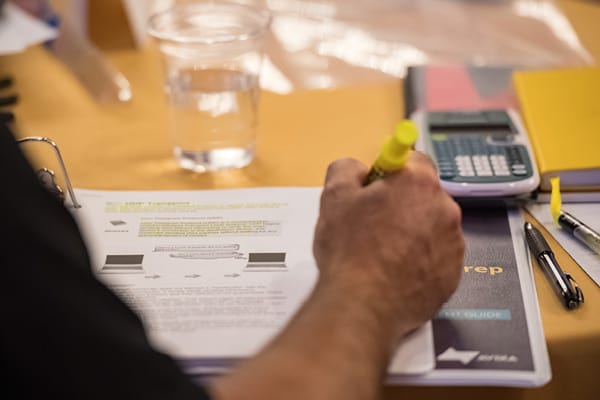 As competition within the custom installation market increases, AVIXA and CEDIA say integrators need to focus on certification as a way to differentiate themselves. Adelle King explains.
While there aren't incredibly large numbers of integrators in the market, the quantity is growing, which means integrators need to start working out how they can stand apart from the competition.
So how do they do this?
According to industry associations AVIXA and CEDIA, the answer is certification. They argue that not only does certification provide a differentiating point, it also highlights the skills and expertise a business possesses. Additionally, certification increases consumer confidence and provides the client with proof that the integrator is competent in performing the work required.
"Whether you are getting started in the industry, switching careers or building on an established home technology career, certifications are a way to show employers, peers and clients that you are competent and engaged with the industry," says CEDIA regional development manager Lauren Tuckwell.
Certification also helps integrators better market themselves, with evidence of technical expertise offering reassurance for clients of the integrator's credibility and recognition within the industry.
"Certifications are a tangible achievement for those seeking to encourage values such as excellence, adherence to best practices and professionalism," says Lauren.
CEDIA currently offers four certifications – Electronic Systems Certified (ESC), Electronic Certified Technician (ESC-T), Electronic Systems Certified Designer (ESC-D) and Electronic Systems Certified Networking Specialist (ESC-N). Aimed at industry professionals who want to advance their career and prove their specialised skill-set, these certifications involve a two hour exam and 100 multiple choice questions. The exams, which are updated at frequent intervals, are designed to measure specific industry competencies and were created by subject matter experts and test professionals. Lauren says passing scores are set using a psychometrically sound process.
The ESC Certification is for those working in the residential electronics industry who want to broaden their knowledge and enhance their general knowledge regardless of their title. It covers all aspects of the residential channel and serves as the foundation for higher level certifications.
The ESC-T Certification is for technicians who have at least two years of field experience in a variety of installation tasks and who are well versed in first and second fix tasks, installation and troubleshooting.
The ESC-D Certification is aimed at those who are well-versed in needs analysis, project design, documentation and design management. According to CEDIA, most professionals who sit the exam have five or more years experience in system design and project completion.
The ESC-N Certification is for home technology professionals who have at least two years experience in residential systems.
"These certifications follow our Job Task Analysis (JTA) of key roles in the industry and, together with CEDIA Training, provide concrete pathways to developing specialised competencies. Additionally, CEDIA member companies with certified staff appear at the top of the CEDIA Finder service," says Lauren.
All three certifications cost $US200 ($A270) for CEDIA members and $US400 ($A541) for non-members. They're valid for three years and can be renewed by earning 30 continuing education units (CEUs). Alternatively, individuals can take a 50 question 'refresher' exam.
On the commercial side, AVIXA offers its Certified Technology Specialist (CTS) designations program, which has been running for more than 30 years.
There are three types of certification – CTS-General, CTS-D (Design) and CTS-I (Installation), which are all accredited with ISO/IEC 17024:2012 Conformity assessment – General requirements for bodies operating certification of persons.
"As a result, many architects, general contractors and others who engage AV professionals require their AV designers and/or systems integrators to employ professionals who hold the CTS credential. Others give preference to AV companies that employ CTS holders because of its value and mark of high quality service," says AVIXA vice president of learning Amanda Beckner.
AVIXA also offers training to help define systems performance metrics and standard processes to ensure exceptional experiences. This is aimed at consultants advising clients on solutions that achieve their business outcomes. Elite AVIXA members also have access to search and use online education for just the lessons they need.
"AVIXA is constantly updating its training and refreshing the content around it to ensure the learning experience is rooted in creating exceptional experiences that support end-users' desired outcomes," says Amanda.
"We have a wide variety of audiences and personalisation is a huge trend in adult learning. It's challenging to personalise the learning experience for each of the professional disciplines, competency levels and geographic regions that AVIXA serves so we're designing modularised curriculum that can be disseminated via different delivery methods. We're also investing in learning content management solutions to codify content and improving processes for more effective translation."
Amanda says the other forms of training available in the industry carried out by manufacturers and integrators are complementary to – rather than competing with – the certification available through AVIXA and CEDIA.  All training and certification helps integrators have a better understanding of the offers they need to implement and help them become more knowledgeable in front of clients.
"Certification is known as evidence of technical proficiency and professionalism, showing commitment to continual development and improvement," says Amanda.
"These are values that increase consumer confidence in an AV service provider's competency, experience and ethical behaviour."