CEDIA APAC Awards 2020 – Winner of Best Auto, Marine or Aircraft – Liquid Automation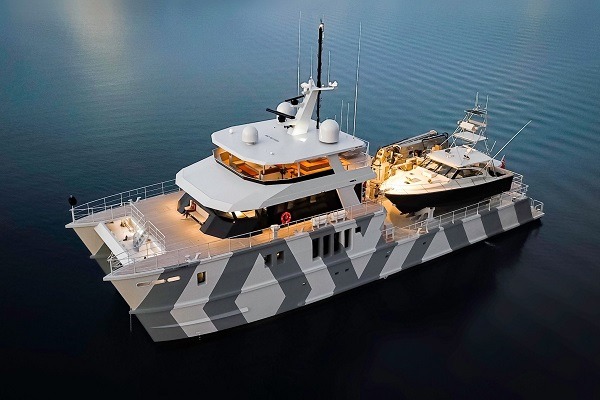 This yacht – designed to anchor for long periods while the smaller fishing boat is in use – features critical security and navigation system integration along with networking and distributed audio and video.
CEDIA's judges couldn't stop talking about this project: "This is a really good job of power management. There's great cable work in this rack, especially as compact as it is. Masterful."
Marine integration can be especially tricky: Spaces are tight, and electronics and salty humidity are natural enemies.
Liquid Automation says, "Living quarters for guests and the owners give a comfortable and private space to get away and relax, while common/social areas give complete entertainment and ambiance solutions. The vessel is available for charter in the South Pacific so it will play host to several guests. This requires a system as discrete and simple to use as possible without compromising any features or functionality."
Time and a shifting brief were challenges here: "Given the tight time frame and the constantly evolving system requirements, we believe that we have engineered a truly immersive and engaging system."
The project includes five zones of audio and video, fives zones of audio-only with hidden speakers, two navigation stations, a robust networking system with remote monitoring to update and troubleshoot, rock-solid security solutions, and a user interface that's second to none.
"The interface was designed to guide the user through the process with the addition of simple questions and prompts. Any delays associated with equipment turning on are displayed to the user, and a countdown timer is shown so they know exactly what is going on," Liquid Automation says.
Liquid Automation was involved in this catamaran's build from the beginning, and the documentation really shows the complexity of this project.
EQUIPMENT LIST
Apple
Avigilon
Blustream
Bosch
B & W
Computer Dynamics
Crestron
Dahua
Fusion
Future Automation
Google
Hewlett Packard
Icron
Ihiji
Intel
iPort
LG
Mbeat
Middle Atlantic
Niles
Ruckus
Samsung
Sonance
Vogels
Targus
Yamaha