CEDIA announces 2018 Home Technology Professional Awards winners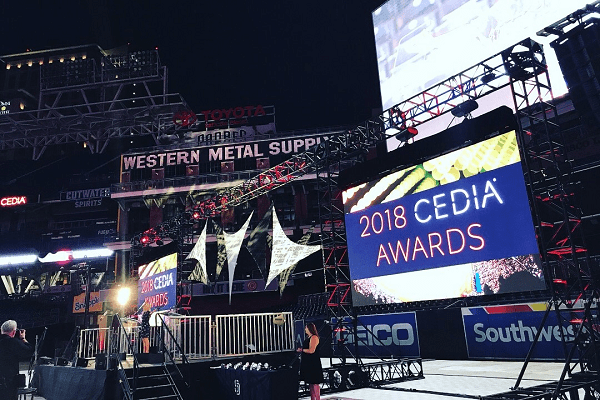 CEDIA has announced the 2018 Americas winners for the Home Technology Professional Awards competition. There were 15 projects honoured at the CEDIA Celebration hosted at Petco Park as the best work completed by home technology professionals this year.
"These award winning projects are stellar examples of how CEDIA members work with their clients to provide best-in-class technology solutions," CEDIA global president and chief
executive Tabatha O'Connor says.
"Getting to recognise these companies at Petco Park during CEDIA Expo 2018 was a wonderful way to celebrate their exceptional innovation."
The 2018 Home Technology Professional Americas Award Winners are:
Best Home Cinema 
Level I: $50,000 & Under
Grupo Mai – Mexico City, Mexico
Level II: $50,000 – $150,000
DSI Luxury Technology – Van Nuys, CA
Level III: $150,000 – $450,000
Admit One Home Systems – Edina, MN
Level IV: $450,000 Over
One Touch Living – San Diego, CA
Best Integrated Home
Level I: $150,000 & Under
Advanced Technologies – Baton Rouge, LA
Level II: $150,000 – $300,000
La Scala – Vancouver, BC, Canada
Level III: $300,000 – $450,000
Admit One Home Systems – Edina, MN
Level IV: $450,000 & Over
The Premier Group – Carmel, IN
Best Media Room
Level II: $25,000 – $100,000
Audio Images – Tustin, CA
Level III: $100,000 & Over
Audio Images – Tustin, CA
Best Multiple Dwelling Unit Design
Smartlab – Naucalpan, Mexico
Best Auto, Marine or Aircraft  
Smartlab – Naucalpan, Mexico
Best Innovative System or Solution
All Digital, LLC – Fort Lauderdale, FL
Best Showroom
Hanson Audio Video – Kettering, OH
Best Lighting  System
Big Picture Solutions – Jupiter, FL
Best Documentation
Big Picture Solutions – Jupiter, FL
Best Dressed  Rack
Admit One Home Systems – Edina, MN
Life Lived Best at Home
La Scala – Vancouver, BC, Canada
Technology Meets Design
La Scala – Vancouver, BC, Canada