BrightSign drives internal communications at BMW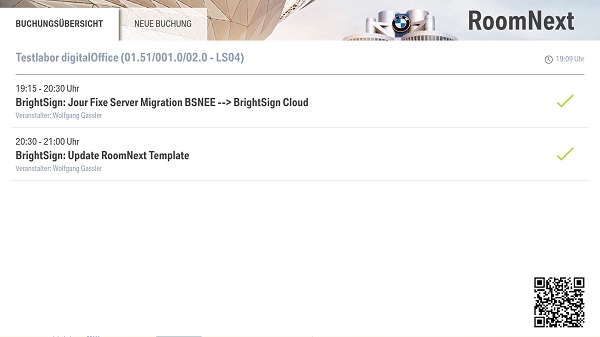 BrightSign media players are currently driving internal communications at BMW Group as the company shifts to carbon-neutral production and a digital transformation of its sales and marketing functions.
BMW Group currently has a large number of active BrightSign media players in its plants and offices around the world, and the level of investment has continued at a steady rate.
Commenting on the project, Pierre Gillet, vice president of international sales at BrightSign says: "This exceptionally large deployment of BrightSign players has helped BMW Group transform the way it conveys practical information to its employees all over the world and it is continually expanding. This is a perfect example of how updated digital signage solutions can contribute to the overall smooth running of a large organisation."
Initially, BMW Group was showing only static images and videos but in the last five years, there has been a big increase in the requirement for dynamic content such as intranet pages, connections to internet services, RSS feeds and live quality indicator dashboards.
Worldwide, BMW Group communicates a large number of live dashboards showing achievements versus targets in different areas of the business including production, sales and product development. On the intranet, for example, you can see whether the required number of layers of paint have been applied during a production line shift or how sales are doing on particular products in different regions. BrightSign XT1144 players drive video walls that make this kind of information much more visible and accessible to everyone.
Around a quarter of all the players on the network are now running this type of content, but the number is growing all the time, due to staff enthusiasm to engage with the possibilities of the technology.
Employees of the BMW Group can book conference rooms all over the world using one of many available interactive Bluefin screens set up in meeting rooms with built-in BrightSign HS123 / HS124 SoC (system on a chip) players. The RoomNext system lets employees find out if a room is free and then reserve it either on the player itself, or by phone using a QR code on the door panel or on RoomNext itself.
Other applications that are also being considered include an emergency notification system, whereby the BMW Group's fire department can press a 'rescue button' if an intruder or fire alarm has sounded in a particular building.
BrightSign XT1144 players are used for some types of HTML content and RSS feeds, while HO523 OPS-compatible players are used in some cases with LCD displays that allow open pluggable specification as an option. Content is created using BrightAuthor, and BrightWall is used to manage media for video walls. The whole network runs on BrightSign Network Enterprise Edition (BSNEE) hosted in BMW Group's data center.
For the BMW Group, security of the digital signage network was the single biggest factor in the selection of BrightSign technology. The players are very well protected against potential threats, and the network itself prevents issues. The BMW Group uses different types of security mechanisms such as 802.1X authentication to protect its enterprise network, and the players can manage these easily.
Administration of the global system is also very straightforward, even though the location of the players and those responsible for their content are often many miles apart from each other. It is possible to manage all the players and change or upload content from a single laptop, anywhere in the world, and it's also much lower maintenance and much more stable than using PCs.
Many people across the organisation are currently registered to 450 BrightSign accounts to program and manage content on local devices.
Setting up new devices is also quick and easy. Employees are advised what type of media player to buy for their intended purpose and the players are delivered with special configuration files on an SD-card so that plug-and-play is ensured. BrightAuthor is very intuitive and people that are new to it can create simple presentations almost immediately.
ADVERTISEMENT

ADVERTISEMENT
ADVERTISEMENT

ADVERTISEMENT