Blustream now shipping latest VoIP product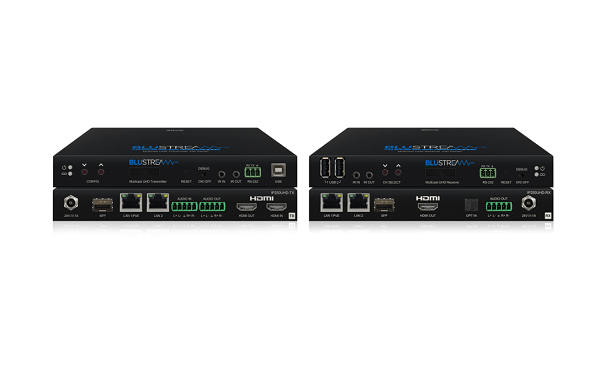 Blustream has announced the availability of its latest video-over-IP solution, the IP250UHD 4K multicast platform featuring Dante integration, which includes the IP250UHD-TX transmitter and IP250UHD-RX video scaling receiver.
The solution distributes UHD and 4K Video with HDCP 2.2 over a single category or fibre cable while allowing integrators to input two audio channels from the VoIP system for playout on Dante-enabled devices, as well as extract two channels from the Dante network for playout across the Bluestream system.
The IP250UHD video-over-IP platform distributes AV and control signals over a 1Gb network, using visually lossless compression technology to deliver HDMI, Dante, bi-directional IR, RS-232, and USB/KVM signals up to 328 feet over a standard network architecture, or further when using the units' fiber SFP port. The IP250UHD-TX and IP250UHD-RX support independent or combined HDMI and/or Dante signal distribution to work with any network configuration. The IP250UHD-TX includes an HDMI loop-out for integrating local displays or cascading to multiple devices.
Both the transmitter and receiver can be powered via PoE from the network switch or locally should the switch not support PoE. With multiple configuration options available — including matrix distribution, video wall presentation, one-to-one HDMI extender, and one-to-many HDMI extender — the multicast platform is ideal for both residential and commercial installations.
Blustream general manager Martyn Shirley says: "Dante is the standard for networked audio in the commercial market and is rapidly gaining traction in the residential space as well, so this is an important addition to our video-over-IP offering. In systems of any size, the IP250UHD elevates the experience and lowers costs by allowing installers to integrate networked audio via Dante only on the required end points. The compatibility with our IP200UHD platform means integrators can easily and cost-effectively add Dante audio to new or existing Blustream video-over-IP systems."
ADVERTISEMENT

ADVERTISEMENT
ADVERTISEMENT

ADVERTISEMENT