Independent living: technology for healthcare at home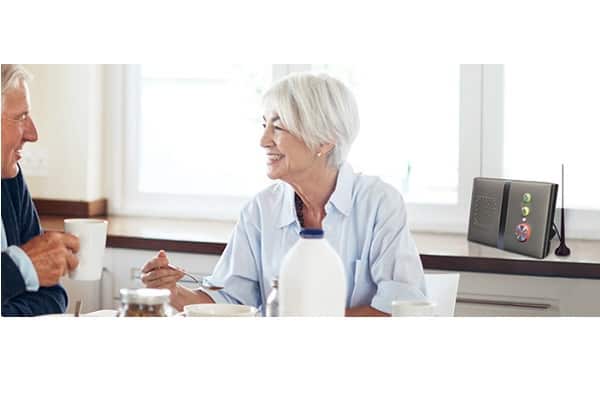 From Legrand Australia. 
Technological breakthroughs in home healthcare solutions are allowing ageing Australians to stay safe, secure, happy, healthy and independent within their own homes for longer, while providing peace of mind to friends and family. 
With an ageing population and a current chronic shortfall of available places in aged-care facilities across Australia, the Government is now actively encouraging people to live independently in their own homes for as long as possible. To help make this a viable proposition, a small number of forward-thinking electrical solutions designers and manufacturers are now leveraging innovations in technology to develop products that positively promote independent living.
As an example of how technology can make a difference, an estimated 60-70% of hospitalisations for the elderly occur as a result of falls. Sadly, these incidents often mark the watershed between being able to live safely at home for an individual and needing to move into a nursing care environment. However, with the simple implementation of appropriate measures, falls can be prevented from occurring in the first place. The DLP range of automated illuminated pathways, for instance, has been proven to deliver a threefold reduction in the number of falls, while providing a tangible sense of safety and security for elderly people still living on their own.
Similarly, the elderly often have trouble seeing and manipulating conventional switches, which can prove frustrating, inconvenient and at times dangerous. The solution: a range of oversized switches that are easy to identify and operate, such as those available in the Como family of electrical solutions. This range also includes sensor-activated switches, as well as the option to integrate emergency safety lighting into wall switches to provide several hours of light in the event of power outages.
Communication is key
Arguably the biggest issue for senior citizens living alone—and one readily identifiable to anyone who has an aged relative trying to remain independent—is communication, especially in emergency situations. Providing the means to stay connected is often the simplest and most effective way to provide peace of mind to both the elderly and their family.
There are a number of Personal Emergency Response Systems on the market, which can be tailored to individual requirements. The Tynetec Reach Plus 3G is a good example of one of the more sophisticated at-home alarm systems available, providing a reliable and versatile means to call for assistance from within the home. It features a Testra 3G mobile card in a central unit, which has an extremely sensitive microphone that can pick up the voice of the user up to 10m away. Paired with a user-worn emergency button, the system is designed to facilitate a call for help from anywhere within the home.
Once the emergency button is pressed, the central unit is activated to make an emergency call. Up to eight telephone numbers can be set into the base unit, which is fully configurable in terms of the dial sequence and number of attempts for each number. Typically it will be programmed to call a hierarchy of family or friends but for additional operational flexibility, a large range of additional communication options are available. For example, in a retirement village environment the system can be set up to call or text the facility manager or even a 24/7 monitoring centre.
User-specific solutions
The mark of a good at-home alarm unit is its ability to be adapted for different applications— recognising that no two person's needs are the same. Again, the Tynetec solution presents a good example of how sophisticated electronics and advanced features can be combined to deliver the flexibility needed to enable a system to be tailored to the specific needs of an individual's physical and mental health requirements.
Here, an optional range of compatible 'add-on' devices can be integrated with the base system to match the exact requirements of the user: a personal emergency-call-button pendant worn by the user; a wrist-worn automatic fall detector; a smoke detector; a bed/chair sensor; and a PIR movement detector. These options provide an adaptable and unobtrusive way of monitoring the user's daily activities and can even be programmed to deliver an intelligent monitoring solution that provides predictive capabilities to give carers an opportunity to react before something serious happens.
Healthcare solutions such as these will play an increasingly significant role in helping older Australians retain their independence for longer and enjoy a safer quality of life. Effective aged care can often be a battle of wills between an elderly individual wanting the dignity and freedom to remain in their own home and their family who want to keep them safe and well. Fortunately, the new generation of home-healthcare technology can tick both boxes: extending independence for the elderly and providing peace of mind for their loved ones.