AVIXA: APAC pro AV industry will decline to $88 Billion in 2020, outperform other regions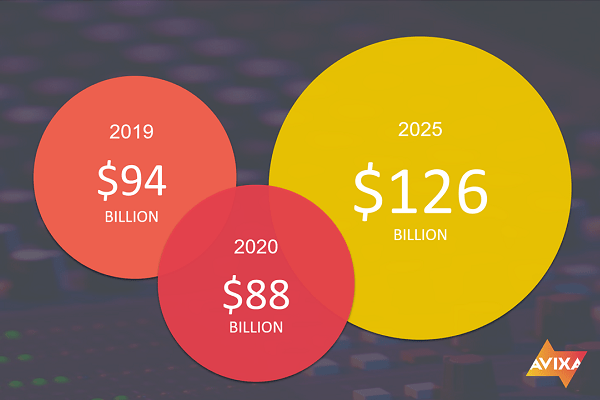 Asia-Pacific (APAC) professional AV revenues will decline from $94 billion in 2019 to $88 billion in 2020 in light of the COVID-19 pandemic but still outperform other major regions around the world according to research by AVIXA in the 2020 AV Industry Outlook and Trends Analysis (IOTA) Asia-Pacific Summary.
APAC is expected to return to strong growth in 2021 with revenue rising to 9.1% and forecast to reach $126 billion in 2025.
"Decisive approaches to the COVID-19 crisis by many countries in the APAC region have facilitated continued economic expansion of the region. Overall, APAC has weathered the downturn better than other regions around the world, thus propelling renewed spending on pro AV products," AVIXA senior director of market intelligence Sean Wargo says.
"APAC's level of pro AV revenue growth will not only lead the world, but also exceed GDP growth for the APAC region and globally."
China leads the way in pro AV revenue in APAC as well as globally with $55.3 billion in 2020. China also will boast a region-leading 8.3% CAGR from 2020-2025. The smaller Indian Subcontinent will generate $7.7 billion in revenue for pro AV in 2020. The region's economy and expanding corporate sector will spur a strong CAGR of 7.6% from 2020-2025. East Asia, a subregion that includes Japan and South Korea, will experience a moderate CAGR of 5.5% from 2020-2025. With $3.7 billion in revenue, Australasia represents just 5% of APAC regional revenue in 2020 and will generate the least growth among the APAC subregions, with a 4.2% CAGR expected for 2020-2025.
The corporate market is the largest application area for pro AV products and services, equaling $18.1 billion in 2020 and expected to grow to $25.9 billion in 2025.
More companies are expected to embrace remote working in light of the pandemic as well as greater investments in huddle spaces for employees are back in the office.
The report also suggests digital signage will see increased deployment for communicating with employees and visitors about necessary health guidelines.
Media and entertainment is the second largest vertical market, generating $13.3 billion in revenue in 2020, and a 15% share of APAC revenue. Revenue will rise to $20 billion in 2025, keeping this market in second place in the region. Within the media and entertainment vertical, headphones, headsets, and ear sets will generate the most growth of any product type, with a CAGR of 17.3% from 2020-2025. However, media storage and media servers offer a combination of size and growth that will fuel this industry's pro AV spending growth, with the two products generating CAGRs of 13.8% and 12.7% respectively from 2020-2025.
The full report and industry overview can be found through this link or by visiting the AVIXA website.