AV Supply Group pushes partnership with Utelogy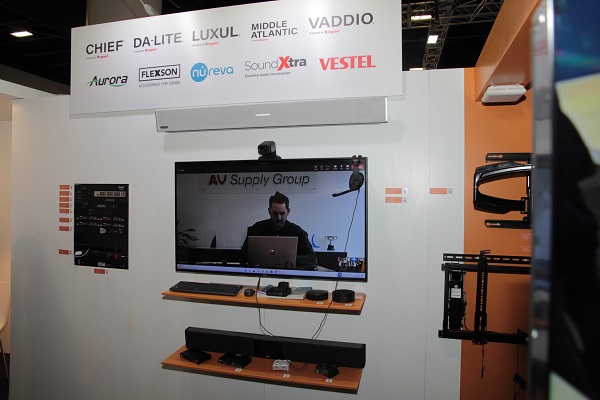 A major focus of AV Supply Group's stand at Integrate was U-Automate from Utelogy.
The chief executive of Utelogy, Kevin Morrison, was guiding visitors through the features. He explained: "Utelogy is a platform control and monitor your AV space. A lot of people just don't know what kind of AV products they have in their building and this all-IP-based software can be set-up in 15 minutes."
With it, all devices on your network report to the U-Manage cloud and, should there be any issues, they'll be instantly flagged on the remote, management (optional touchscreen) dashboard. The primary benefits include removing manual checks of networked equipment and, where possible, fixing issues with AI-based processes. If that all fails a technician at the network operations centre can be notified and an engineer dispatched to investigate.
The platform could also read asset numbers plus monitor and manage driver and firmware versions. It could even monitor 'dumb' non-network devices using IR blasters and monitor how-long things like projector bulbs had operated for. It would also deliver a status report each morning.
Michael Good, sales director of AV Supply Group, also showed off some impressive UC and networking products, including microphones, video hubs and rack-mounted networking devices from Luxul, Aurora and Vaddio. There were also plenty of wall-mounts for screens and he said that AV Supply Group had recently taken over the distribution of Nureva AV products.
Particularly impressive was the Vaddio IntelliSHOT-M Auto-Tracking Camera. While the Microsoft Teams certification, ePTZ tracking, 30x zoom, 4K resolution and 70-degree Field of view might not be unique, its internal smarts are particularly noteworthy. Its ability to utilise facial recognition, identify facial coverings and masks, disregard passers-by, ignore pictures of people on walls – all at once – while also tracking voices and auto-framing make it a great asset for classrooms that also have students connecting remotely.
Its performance could be supercharged with the addition of an HCL Soundbar whose inbuilt microphones could map a room's audio and eliminate noises like air conditioning, tapping on desks, projectors and conference-crowd noise – something that was well-demonstrated on the stand!
ADVERTISEMENT

ADVERTISEMENT
ADVERTISEMENT

ADVERTISEMENT