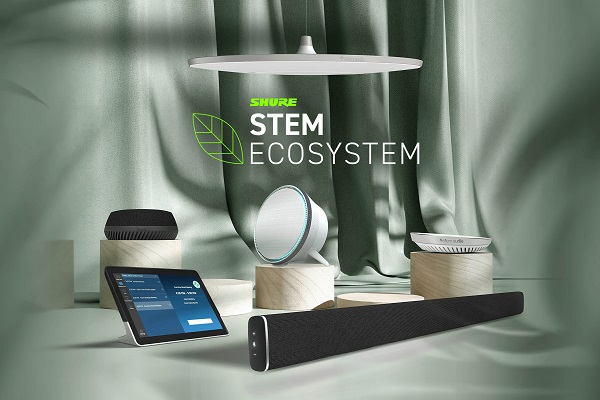 The STEM Ecosystem from Shure offers businesses an AV conferencing solution that puts ease of use and scalability at the forefront.  San Williams  finds what sets the STEM apart from other AV products. 
Sometimes finding an AV conferencing tool isn't all that easy, which shouldn't be the case considering how many businesses and companies rely on a connection to distant or remote staff.
With AV conferencing, each business presents its unique needs, while others struggle with complicated setups and management, costing valuable time and resources with IT help. Alternatively, Shure's customisable STEM Ecosystem allows businesses to create the perfect audio setup, no matter the requirement.
"We believe in delivering top-tier products and providing innovative solutions for our customers, and the STEM Ecosystem from Shure is a scalable and easily configurable, complete audio solution for video conference enabled spaces," Jands business development manager Christopher Ling says.
"With the mix and matching of components, the STEM allows businesses the freedom to create, manage and scale their collaboration space, from design to implementation."
Australian-owned and proudly independent, Jands is a company that represents the best of professional audio and lighting products selected from the world's most renowned suppliers, including exclusive distribution of Shure in Australia.
Having worked with various AV solutions, Christopher says the difference with STEM is having IT teams and installers easily and quickly get their conference rooms' audio up and running.
"Often, equipment may appear too intimidating for the IT team who end up managing the equipment. One negative experience creates emotional memories of frustration and is associated with the equipment.
"The building block approach to a solution means it is easily scalable. Start with a STEM Wall and if you need to increase the solution you can just add a STEM Table. No need to change the whole system over."
He says that STEM is easily managed on a corporate network and easily configured. The performance of STEM's beamforming technology helps in challenging spaces. As always, the room's acoustic performance must be assessed correctly.
The STEM's esteemed scalability is supported by several devices with the STEM Speaker, Table, Wall, Ceiling, Control and Hub available for mixing and pairing. All devices can work on their own or in conjunction with the other pieces to make an almost infinite amount of AV setups.
One of the major draws to the STEM solution is that an AV conference room can be installed and up and running in minutes. This is done by having the installer plug each STEM device into a PoE+ enabled network switch which will provide the power to the devices, ensuring that all devices are up to date. From there you assign devices to a room either via the web based GUI or STEM Control and run the Room Adapt feature for a quick auto tune of the space.
"The investment not considered when selecting the right equipment for a collaboration or video conference room is the team who looks after the equipment," Christopher says.
"STEM provides the freedom of remote management of the devices. It also allows for rooms to have devices added or removed from a system without needing to re-program a space. Simply re-run the Room Adapt and you are done."
In addition, the way STEM uses the PoE+ switch to be both the connectivity and power for the devices means it also sits with other IT devices and can be completely controlled, monitored and adjusted over the network by an IT manager.
Also taking the hardship out of AV conference room scaling and design is the ecosystem's Room Design tool, a free online software, available for anyone to use.
After placing walls with a few mouse clicks with Room Design, the user just needs to select the devices and place them where they are desired for a precise visual indicator of the device performances of the microphones and speakers.
"Basing itself on optimal acoustic environments, the software requires no advanced knowledge of AV equipment. Anyone can use it," Christopher explains.
"The Room Design tool even provides the list of equipment on the left-hand side as a shopping list once a customer is happy with the design."
Being compatible with video call apps including Zoom, Teams, Google Hangouts and more, STEM Ecosystem is an AV conference solution that doesn't come at a fortune, making it ideal for modern, small-to-medium-sized businesses.
Offering real, long-term relationships to businesses, Christopher adds: "We are built on a passion to build extraordinary experiences through quality AV experiences. From system design and support to training and education on our products, Jands has a team that is here to support you."
ADVERTISEMENT

ADVERTISEMENT
ADVERTISEMENT

ADVERTISEMENT