Aurora announces new transceiver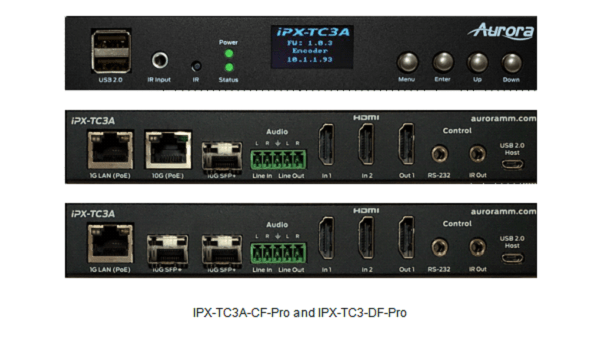 Aurora Multimedia has announced its new encrypted 4K60 4:4:4 10 Gbps AVoIP transceiver box and wall plates which uses its patent pending IPBaseT technology based on the SDVoE platform.
The IPX-TC3A series compliments the growing line of AV over IP products from Aurora.
The IPX-TC3A and IPX-TC3A Pro is the only 10Gbps SDVoE transceiver to have redundant fiber version and selectable copper fiber in a single unit. The new A version uses as little as 6 watts and is fan-less. The newly designed enclosure is small and lightweight making it easy to mount just about anywhere. The box version now has a front OLED screen for IP Address, Unit ID, Status, and more.
The new units combine a variety of IP technologies and features under one unified protocol using a simplified topology.
Seamless switching, USB 2.0 (480Mbps), Dante/AES67 8-channel (another Aurora first), 1Gbps Ethernet, and control are some of the core capabilities of IPBaseT. Advanced features include: windowing, videowall, seamless switching, all with perfect image quality.
The IPBaseT Manager allows full set up and control of all functions. Key features are the EDID editor allowing for full manipulation of an EDID to create common denominators and Rapid Deployment Tool (RDT) which can fully configure a large system in minutes.
Using the bandwidth of a standard 10Gbps copper or fiber, the IPBaseT® IPX Series supports large scalable audio/video matrixing, and it does so while replacing multiple technologies and products with a "single-box" distributed platform.