Aurender launches A15 streamer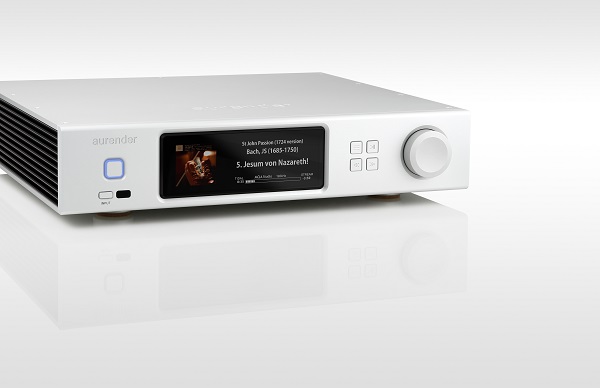 The Aurender A15 builds on the company's first ever music server/streamer, the A10, which featured a built-in DAC and analogue outputs.
By eliminating the complication and expense of assembling a system built around a stand-alone streamer and separate DAC, Aurender has taken the guesswork out of designing a stellar system with a digital front end.
The A15 is packed with a high-performance, dual-mono AKM4490 digital-to-analogue convertor with MQA full-decoder technology and balanced (XLR) and unbalanced (RCA) analogue outputs.
As with all of Aurender's "A" series, A15 is designed to take full advantage of the vast selection of MQA encoded music that is now available. It also has two rear panel bays which can accommodate user-installable 2.5″ HDDs or SSDs of (up to 8TB each) to store the largest of music libraries.
A large full-colour front panel display shows album cover art along with artist name and song title on the "now playing" screen.
At the heart of A15 is a dual-mono configuration of the renowned AKM4490 DAC chipset. The DAC boards are supported by discrete linear power supplies for the best performance in channel separation, dynamics and noise floor reduction. Aurender engineers have designed input/output circuit topologies around this chip, achieving new levels of audio performance and fidelity.
A high-precision clock generation system incorporating Field Programmable Gate Arrays (FPGA) runs A15's DAC section. An extremely accurate sub 100fs clock generator precisely times the digital audio data transmission to reduce jitter well below negligible levels.
A15's fully-linear power supply structure incorporates four audiophile-grade toroidal transformers, along with advanced shielding and isolation, to prevent noise from being introduced to the signal path at this stage.
The A15 can function as a source or a preamplifier with volume control and digital source selection. It can be connected directly to any power amplifier or an active loudspeaker system for the utmost simplicity. Volume control, and other playback actions, can be adjusted from the Aurender Conductor app or included machined-aluminium IR remote control.
For maximum flexibility, the A15 features both a coaxial (RCA) and optical (TosLink) digital input. These inputs allow other sources like a Blu-Ray / DVD player, CD Transport or TV to be connected to the A15 and utilize its DAC to improve the audio fidelity.
A15 supports all widely used file formats including: DSD (DSF, DFF), WAV, FLAC, AIFF, ALAC, M4A, APE and MP3. With the capability of high resolution PCM up to 32bit/768kHz and DSD512, you can expect the highest audio performance from all formats and codecs.
With Aurender, all playback occurs from an innovative internal solid-state cache. As soon as any track, album, or playlist is added to the queue, the content is immediately downloaded to the internal cache memory for playback. By caching tracks to the solid-state drive, electrical and acoustic noise generated from spinning disks, moving heads and motors are completely eliminated.
ADVERTISEMENT

ADVERTISEMENT
ADVERTISEMENT

ADVERTISEMENT