Atlona ships 4K/UHD HDMI and USB extender for huddle spaces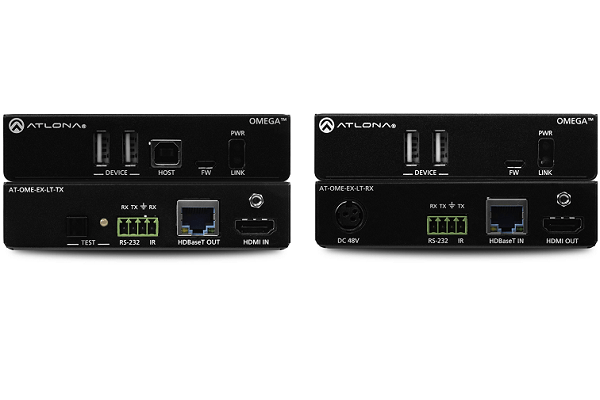 Atlona has released the OME-EX-KIT-LT HDBaseT extender which aims to make reliable signal extension more cost-effective for huddle spaces and meeting rooms. It extends 4K/UHD HDMI video, embedded audio, power, control and USB data over HDBaseT while discreetly offering simple connectivity for collaboration and video conferencing.
As the latest addition to Atlona's Omega series of essential AV components for modern workplaces and meeting environments, the OME-EX-KIT-LT powerful core functionality of Atlona's proven AT-OME-EX-KIT in a lower-priced configuration. As with other Omega series products, it comes with a ten-year limited product warranty.
"Our OME-EX-KIT has become a preferred choice of systems integrators and end users for long-distance signal transport in AV environments as large as auditoriums and lecture halls, but its 100m extension capabilities are unnecessary in smaller spaces such as huddle rooms," Atlona director of product management David Shamir says.
"The OME-EX-KIT-LT offers a more economical option for these rooms while delivering similar versatility, feature-richness and integration convenience as its sibling."
The OME-EX-KIT-LT extends 1080p60 HDMI and USB signals up to 70m over HDBaseT, while 4K/HDR HDMI video – at 60fps with 4:2:0 chroma subsampling, or 30fps with 4:4:4 – can be extended up to 40m. HDCP 2.2 compliance enables the transport of protected content.
Its USB 2.0 interfacing and extension capabilities are designed for soft codec and web-based conferencing and applications including Zoom, Skype for Business, Microsoft Teams, Cisco Webex, BlueJeans and GoToMeeting.
With support for a range of PC peripherals, it can integrate with a PC and speakerphone or microphone at the meeting table or a camera and soundbar at a wall-mounted display.
Powered over HDBaseT, the transmitter doesn't require local AC power. A test button and LED on the unit gives users a quick visual confirmation of the integrity of the HDBaseT link between the transmitter and receiver, while a free software utility provides real-time link status plus detailed diagnostic and signal information.