Atlona releases Velocity remote gateway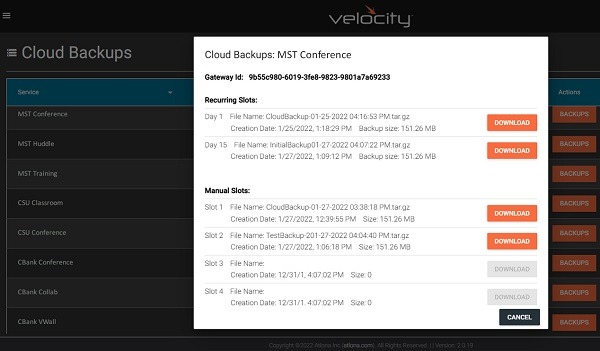 Atlona has announced availability of its Velocity Premier Services – Remote Gateway (AT-VPS-RG), a powerful online resource that allows dealers and AV / IT technology managers to access a Velocity hardware or software gateway over the internet for remote configuration, management, and control.
Using patent-pending cloud technology, servers establish a secure proxy connection with the gateway and create exclusive links for direct access. Remote access to the gateway creates an opportunity to provide enhanced support and customer service by allowing system and device configuration, troubleshooting, credential and firmware updates, and more from any device with a browser and internet connection.
The online dashboard provides centralised access for managing multiple gateways as well as storage of system backups in the cloud.
VPS-RG also supports BYOD control of AV systems over the same connection. Users scan the control QR code for the room and can control the AV system using the internet access on their device. This benefits IT administrators since they do not have to provide BYOD control users with access to the AV LAN.
VPS-RG is available in three annual licensing levels designed to match the processing and data requirements of specific Velocity gateways. A VPS-RG license is required for every gateway needing remote access.
For integrators and resellers, the solution allows from remote management of gateways for clients without having to access their networks. In the education or commercial spaces, IT/AV managers will be able to manage assets even in geographically separated buildings, sites or campuses.