Atlona releases a wallplate transmitter for USB-C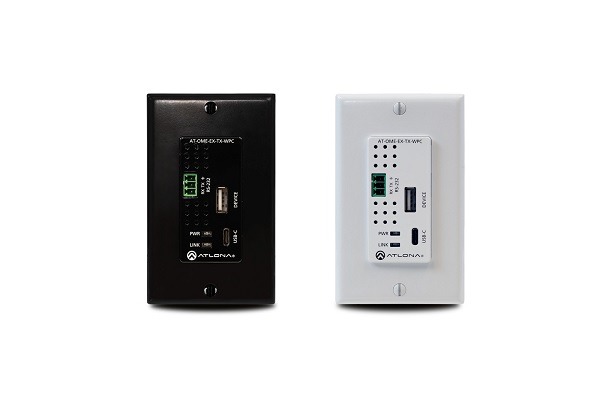 Atlona has released the AT-OME-EX-TX-WPC, a one-gang enclosure for wallplate openings with interchangeable black or white trim kits.
It boasts a HDBaseT transmitter for USB-C, power, control and USB. The HDCP 2.2-complaint component also has USB 2.0 interfacing and extension up to 100m with 4K/UHD capability at 30Hz with 4:4:4 chroma sampling.
Part of the Omega Series of integration products from Atlona, it's designed for modern AV communications and collaboration and it's USB-C input is ideal for AV interfacing with newer Mac, Chromebook and Windows PCs as well as smartphones and tablets.
The OME-EX-TX-WPC incorporates many popular integration convenience features, while delivering excellent performance and value for 4K presentation and video conferencing applications. The OME-EX-TX-WPC can be remotely powered by the OME-EX-RX, OME-SR21, OME-PS62 or other Omega Series receiver or switcher.
Atlona see the product being deployed in complete system integration solutions, lecture hall/training rooms or video conferencing.
ADVERTISEMENT

ADVERTISEMENT
ADVERTISEMENT

ADVERTISEMENT