Ashly Audio releases FX750 FX Series and third-party support for amplifiers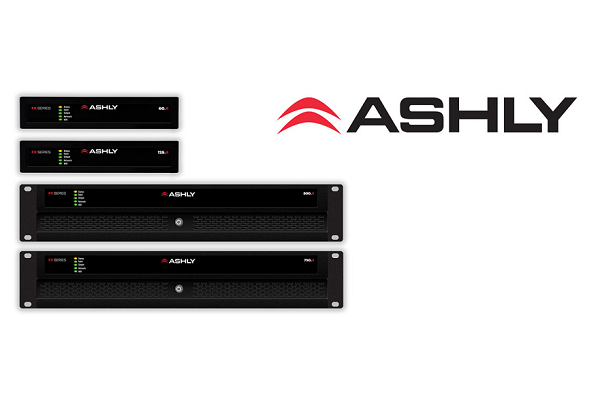 Ashly Audio has delivered third-party support for the FX Series of networked power amplifiers that were introduced about a year ago, enabling them to be used in projects with a range of control systems and loudspeakers from several manufacturers.
The library of control drivers enables the FX Series amplifiers to integrate with products from Control4, Crestron, STI and others. The library also comes with loudspeaker preset files for a range of manufacturers including models from JBL, Community, MSE, Bose Professional and others.
These files may be loaded into the FX's internal Speaker Library and assigned to any output. The user may select one or more depending on the type of loudspeakers used.
Ashly Audio has also released the FX750 FX Series range of DSP-equipped amplifiers. Complete with a built-in Wireless-Access-Point (WAP) for connection and configuration via WiFi and a web-based software UI, the power amplifiers can blend into smaller spaces.
The FX Series features onboard DSP, web-based UI access to programming software and control functions, SPDIF digital linking and speaker presets and premieres software-based mixing capabilities, providing users with the ability to route selected inputs. Users can also blend audio sources together, offering more granular control of the audio outputs.
A five-band Parametric EQ has been added to all input channels, which allows the tailoring of individual sources and a ducking circuit has been added to allow priority override of one source from another, making the FX amps useful in paging applications.
With the enhanced FX Series signal generator, users are now able to choose between the noise signals and adjust the output as desired. The upgraded generator also includes a tunable bandpass filter which permits bandlimited noise for applications such as sound masking. The added tone generator may be tuned to any frequency and is useful for sound system testing or for signalling tones.
The amplifier's SPDIF input and output, which allows devices to be connected in a linear series, now permits users to access the signals from different points in the DSP path and assign the output source as desired for greater control over the sound system.
ADVERTISEMENT

ADVERTISEMENT
ADVERTISEMENT

ADVERTISEMENT