APG teams up with CBC for election coverage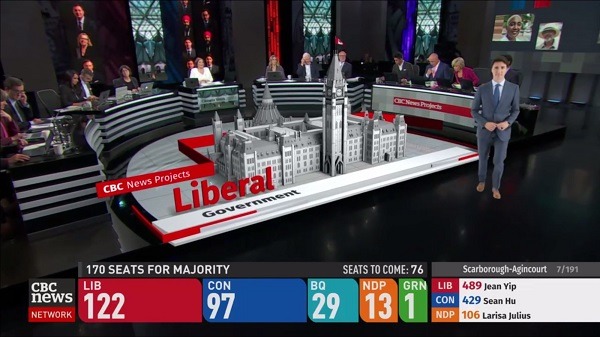 APG Media Group played a huge part in fitting out a temporary live broadcast studio which enhanced the Canadian Broadcasting Corporation's recent federal election coverage.
The Toronto studio, the country's most technologically advanced, featured LED displays on almost every visible surface, including the floor. APG outfitted the studio with 350 LED tiles comprising two video walls, 16 LED towers, two anchor desk displays and a circular floor display.
APG was required to provide higher resolution displays, including the 1.5mm HyperPixel LED displays, as well as curved screens for the desk. The custom-designed, arch-shaped LED display included 66 additional LED panels with a 4.76mm pixel pitch resulting in full HD display.
The abundance of screen space gave the studio numerous options for displaying content.
The remote video wall presented live feeds while the always-on election results wall displayed updated tallies and results. The LED towers featured other exciting content and visuals.
A variety of video processors were used to feed all of the different aspect ratios and content for the various LED displays. The CBC designed all content and pixel-mapped it to fit each display's unique aspect ratio.
APG Media Group president and chief executive David Weatherhead says that in this situation there was only one chance to get it right, adding that the immersive studio offered endless opportunities to display and share information and graphics.
The CBC knew what they wanted so our job was to give them the right technology and tools to make it all work and look great on screen. Anybody can provide a video wall, but APG brings a wealth of experience and product knowledge that's necessary to implement the best solution for flawless on-camera presentations. In situations where there is no room for error, choosing the right technology providers and designers can be the difference between success and failure."
He adds that the Hyper Pixel LED technology was chosen because of its excellent on-camera appearance, boasting superior broadcast capabilities including a faster refresh rate and better off-axis colour accuracy.
He remarks: "This set ushered in a new era for Canadian broadcasters. The immersive 350 space, which includes the first LED floor in a Canadian broadcast studio and curved 1.5mm LED, offers countless ways for the program to show information and display compelling graphics that differentiated its election night coverage from competing networks."