AMX introduces AMX MUSE Automation Platform and four new controllers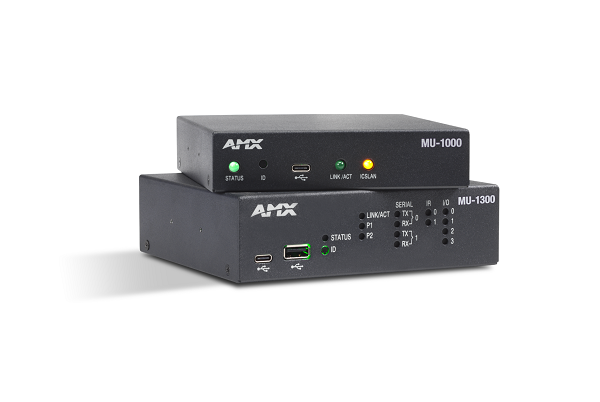 HARMAN Professional Solutions has released the AMX MUSE Automation Platform, four new MUSE automation controllers and several supporting developer resources.
Like no other automation platform on the market, AMX MUSE tears down traditional barriers to AV control ingenuity. The MUSE Automation Controller family features powerful, secure and reliable devices that provide a dedicated computing resource for running the AMX MUSE automation platform.
MUSE Controllers can simultaneously process a virtually unlimited number of scripts written in JavaScript, Python or Groovy and natively support Low-Code development with Node-RED.
Featuring a modern embedded processor that's ten times faster than previous AMX NX Controllers, MUSE Controller models integrate bountiful memory and rugged, industrial-grade eMMC storage. Built on HARMAN's secure Linux platform, MUSE Controllers are also designed to surpass the requirements of the most secure installations.
Additionally, these Controllers natively support HARMAN's HControl (open-API), HiQnet (legacy HARMAN audio devices) and ICSP (legacy AMX control devices) protocols, making them the ideal automation processor for any space, environment or application – old and new.
"Thanks to an incredibly loyal and discerning user base, we've had many successes over the decades inventing and re-inventing what control automation should be to push the boundaries of what's possible," HARMAN Professional video and control product manager Nick Czapla says.
"And while exceeding the needs of users will always be our biggest motivator, we engineered the MUSE platform to equally support the evolving needs of system integrators and developers. Examples include the inclusion of multiple scripting language support and native no-code/low-code programming to support the varying skillsets and language capabilities of developers that will define MUSE possibilities not yet imagined."
For complete product details and specifications, please visit this link.
ADVERTISEMENT

ADVERTISEMENT
ADVERTISEMENT

ADVERTISEMENT