AiSPIRE to introduce RPS at CEDIA 2022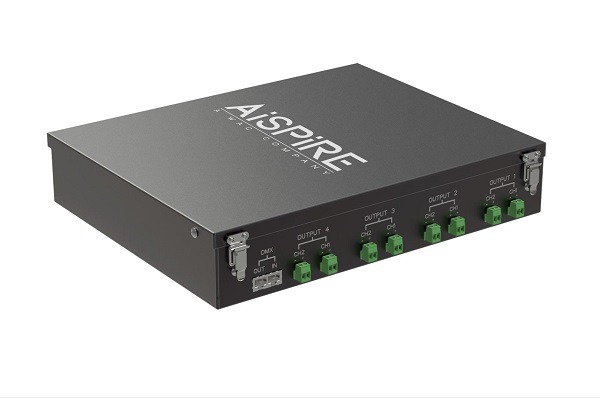 AiSPIRE, a new lighting brand from WAC, will introduce RPS, a brand-new Remote Power Supply System for low voltage next generation lighting solutions, at the CEDIA Expo later this year.
The Class 2 RPS can be surface mounted inside a mechanical closet or on a wall and can be powered by any common line voltage wall receptacle. Choose from a four channel or an eight channel system that feeds clean low voltage DC current to power a vast selection of high lumen lighting fixtures that use different currents.
The RPS has up to 150W and 300W total load options with no minimum load requirements, providing flexibility in your lighting layout by allowing you to run fixtures at long distances.
The power supply can be controlled using DMX512 protocol and has a convenient RJ-45 Jack on the side of the housing to easily connect to your master control system of choice. Each channel can be addressed on the driver for simple DMX commissioning
More advanced users can change the frequency of the pulse width modulation and LED dimming curve from linear to logarithmic, to fine-tune your lighting system even further.
Static fixture options in both 36V and 18V allow for flexibility of maximum lumen performance or additional fixtures per channel when wired in series.  Tunable white fixtures with the highest naturalness rating are also available, serving the most discerning clientele.
The Universal RPS is UL Rated as a Class II power supply so it can be used with any industry component rated for constant current input, providing smooth dimming without flicker or inherent noise.