Airtame democratises screen sharing with Share from Browser feature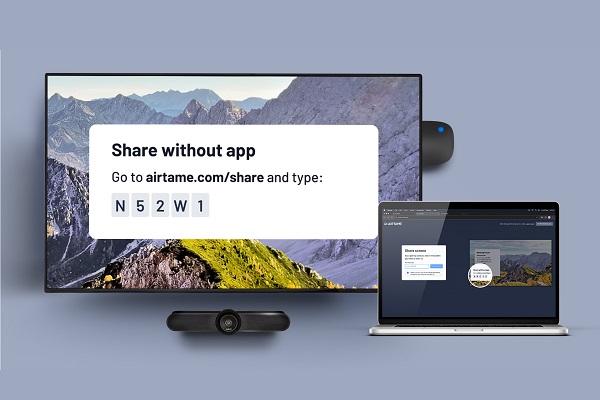 Airtame has launched a powerful new scree-sharing feature for Bring Your Own Meeting (BYOM) environments, the Share from Browser.
The new feature lets users screen share from any internet-connected device or PC to any Airtame-powered display, eliminating barriers of entry for first-time users or visiting colleagues. With Share from Browser, meeting participants won't need any new app downloads, installations, cables or dongles.
"Share from Browser addresses some of the most pressing criticisms of modern collaboration tools and democratises screen sharing and hybrid communication for all users," Airtame chief executive Susanne Lund says.
"This is especially useful for first-time users such as guests and those who have restrictions from running software on their machines. We are always looking for ways to make collaboration easier and more powerful for users, and in hybrid or flexible workplaces it's vital that all users can quickly and easily present their content without training, from whatever device they are using."
Once connected to the local WiFi network, a user follows on-screen instructions to visit the Airtame Browser web app on their personal device, then choose whether they want to share their whole desktop or a specific browser tab or window. Because users don't have to enter personal passwords or credentials to connect, they can display their content and presentations without downloading any software or sharing any private information.
Share from Browser is compatible with Chrome, Edge, Firefox and Safari.
ADVERTISEMENT

ADVERTISEMENT
ADVERTISEMENT

ADVERTISEMENT