Electronic whiteboards or interactive panels… what does the future hold?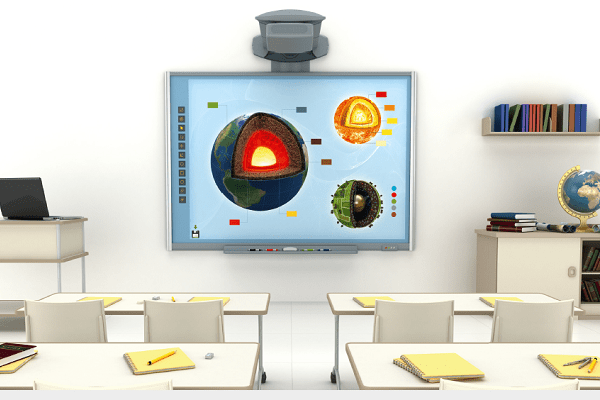 Interactive display boards are constantly evolving but where does that leave the 'work horse' electronic whiteboard? Anna Hayes reports.
Visual display has become part and parcel of almost every work and education space, and the technology in that area is constantly evolving.
Smart boards, or electronic whiteboards (EWBs), have been around for a long time and are seen as the work horses of visual display in schools offering a simple and efficient, if not particularly flashy, function.
But with the growth of digital and interactive displays and projectors, is the humble smart board in danger of being left out in the cold?
For example, Panasonic recently shuttered its electronic white board division to focus on newer technologies.(Interestingly, after that announcement the company won the 2019 Connected Most Popular Award for Electronic Whiteboards by a 17% margin.)
But depending on who you talk to, it's not all doom and gloom for EWBs. Electroboard (ELB) fi rst introduced EWBs to corporate and government customers over 30 years ago. Designed for meeting rather than education environments, they helped participants to focus on a discussion, knowing that notes would be automatically documented.
These solutions are still in use in these market sectors, in particular in government departments.
ELB head of marketing Sharonika Camplin says that as a seller of both EWBs and interactive displays, ELB sees the value in both solutions, and believes that each has its place in the Australian market.
"The fact that EWBs have held their value with only a slight decline in price over three decades shows that it's still very much in demand," she says.
She points out that most organisations have a lot of meeting spaces, many with a traditional whiteboard in situ, so the addressable market is still a healthy one.
"We continue to sell a lot of whiteboards and expect to continue into the future both to corporate and especially government agencies."
There are, she says, a number of reasons for the popularity of EWBs over the years. They are simple to use with self-explanatory technology and applications, and
there's no need to have a PC in the room. They are also very affordable, which makes it easy to fit out meeting rooms.
For the security conscious, it is a good solution as they can be standalone devices that aren't connected to the network or PC. In government departments, employees can transfer notes from it to USB sticks for future reference.
In addition, Sharonika says that EWBs are thinner and lighter than interactive displays and thus are more mobile and easily wheeled from place to place.
Given the low-tech nature of an EWB, most of the new developments and enhancements to products in this market are in the area of the meeting/note taking experience or to form factor. Downloading to USB sticks in PDF or JPEG format, employee ID card compatibility and network connectivity are a few of the newer upgrades. They have also become slimmer and more eco-friendly in terms of power consumption.
Sharonika says ELB expects to see continued step change improvements to EWBs over time.
In terms of interactive flat panel displays (IFPDs), ELB first introduced them into 150,000 classrooms across the country during the Building the Education Revolution (BER) funding program about 10 years ago.
"They continue to grow in popularity and also in features and intelligence. Today we sell and deploy IFPDs to schools, universities and to corporate and government across Australia. Their use cases are very different to the EWB."
IFPDs, she says, are used for interactive, rich and engaging collaboration.
"Primarily, this is in learning environments but it also has applicability for corporate training, workshops, agile project meetings, design and engineering meetings, etc."
For other distributors, however, EWBs are not quite there yet but are en route to being kicked to the curb. Amber Technology is the distributor for Optoma and Newline interactive display products and its general manager Richard Neale believes that that market has moved almost completely away from EWBs in favour of IFPDs.
There are a number of reasons for this, he feels, pointing out that EWBs require a two-part install with cables between the EWB sensor panel on the wall and
projector. They are generally 4:3 as opposed to IFPDs' 16:9 aspect ratio, and EWBs are subject to shadowing if the writer stands in front of them.
"IFPDs are brighter, have better contrast and a clearer image. They generally have more and wider connectivity, including bring your own device (BYOD)."
In addition to that, the price differential has, he says, massively reduced and it is possible now to buy a 65" IFPD for under $4,000 RRP. Not only do IFPDs replace EWBs for Richard, he points out that the advanced models can offer complete teleconference/collaboration hub capabilities.
At present, the biggest market for IFPDs is the education sector where they are rapidly moving to replace white/ blackboards and projectors in teaching spaces.
"Corporate offices are going the same way, but the market is smaller. That said, corporates tend to buy more feature-rich products at higher prices," Richard adds, pointing out that Newline's RS Series and X Series are targeted at the education and corporate markets respectively.
The evolution of this technology is very fast, Richard says, with end user features and image quality constantly developing. Among these developments is that of object recognition where the device has the ability to distinguish between different types of touch on the screen without having to select a different 'tool'. The devices are much more intuitive as they can distinguish between a thin pen, a thick pen for highlighting and a palm for erasing.
Optical bonding, where the surface glass is glued to the LCD image panel, eliminates 'air gap' which makes writing more realistic, improves general image quality and viewing angle, and adds strength, thereby reducing weight.
New models also are offering increasingly flexible BYOD connectivity and broadcast capability, as well as streamlined management and control for larger installations.
Westan, which has branches in Australia and New Zealand, is the distributor for InFocus products and collaboration channel manager Ben Smythe believes that EWBs are not in the same category as IFPDs anymore.
"When most people think of EWBs they're thinking either static boards with printers attached to them, covered in bits of whiteboard marker on past writing that
never fully erases, or the generation after that that only allowed you to use their software with their applications, the now unused/unusable solutions that caused
so much frustration for users and IT professionals alike."
Solutions, he says, are now outcome driven and people don't want to spend 10 minutes waiting for technology to work or people to connect. He likened the EWB
to the first 'post brick' mobile phone, with a few settings, maybe a bad camera, calculator, time, calendar and a few games not connected to the world.
"IFPDs are now like the latest phones – fully connected, fully interoperable and it's not about what you're using but what/ who you want to work with, regardless of device or distance."
Ben believes that the market has moved already towards IFPDs, pointing out that while the larger companies' products are usually too expensive, Westan was addressing that issue. He sees the move from EWBs to IFPDs as a natural progression.
"It's like asking if Tesla sees itself as a replacement for the 1970s petrol car engine. It's an evolution more than a replacement because they [IFPDs] simply do so much more."
Westan's business is mainly with the corporate and education sectors, with a big emphasis on collaboration in the former. Ben explains that it's about 'what you do, not where you do it', adding that their products, such as the Mondopad Ultra, are agnostic in that they're designed to fit inside a business, not to transform it but to enable people to perform tasks faster and easier.
In terms of the education sector, he believes that schools are trying to catch up with the quality of technology they have at home.
"Children and teachers are genuinely sick of having technology at home that's better than at school. They're using iPads, laptops, iPhones and Android devices on
a daily basis. Learning should be as fast as they are, not making them slow down due to a lack of up-to-date technology or solutions."
Ben believes that while bigger companies are to the forefront of upgrading software they cannot keep up with the hardware advances in the space because it is pricy and goes out of date too quickly.
"Updates are coming thick and fast, and features are virtually anything you can imagine. That's why devices that allow the end user to choose their path, backed by great technology and end hardware, are the future."
BenQ B2B business manager for Australia and New Zealand Sanjay Handa is of a similar opinion to Ben, believing that EWBs and IFPDs are not comparable,
with the latter being a superior product. He cited IFPDs' resolution and brightness, wireless collaboration, advanced connectivity, cross/multi-platform compatibility and built-in applications as just a few of their benefits.
Sanjay believes that the market is shifting, with interactive displays replacing the traditional whiteboard: "The major reasons are relative affordability, advanced technology and features, compatibility with the BYOD trend and different size options for different space requirements."
Brainstorming and collaboration, he points out, are the key factors in the corporate market, with companies moving away from non-touch panel and towards interactive panel technologies that allow them to work with in-room and remote participants.
The education sector, he adds, holds the majority of the market due to early adoption of technology in government and public schools, with interactivity and collaboration being built into school curriculums. He points to some of BenQ's offerings – the RP Series Interactive Flat Panels and technology such as ClassroomCare and X-Sign Broadcast, as examples of what is available in the sector.