A paint job like no other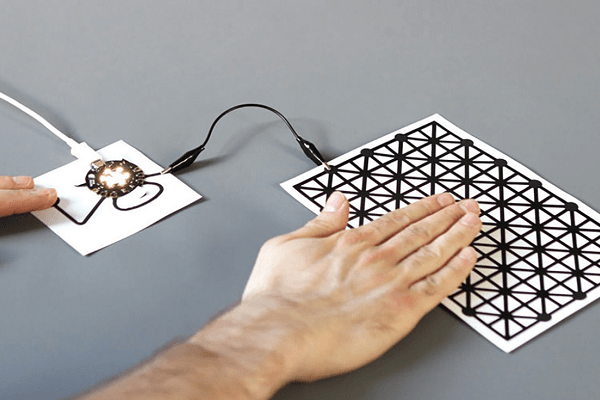 Printed electronics might sound complex but it's actually a simple way to create a control interface. Anna Hayes investigates the notion of painting a light switch onto your wall.
Questions and expectations around functionality are always pertinent in this industry but, in recent times, companies have been placing more focus on simplicity than flashiness – rather than pulling up a phone app or
having a verbal disagreement with your smart speaker to turn on the lights, what if you could simply slap the wall?
That kind of simple functionality is at the heart of the printed electronics industry and one company, Bare Conductive, has its sights on combining two technology sets – wall paint and electronics – in a meaningful way for the smart home user.
Conductive paint is applied as paint and, upon drying, can conduct electricity.
Bare Conductive chief executive and co-founder Matt Johnson says that it is too simplistic to refer to the product as
'paintable wire' but it is probably a good framework to think about the product in.
"Our view is that printed electronics and conductive inks offer a really unique opportunity for smart buildings,
combining the very traditional coatings industry with electronics."
Matt says the best and most interesting application for conductive paint is creating sensors that can be integrated
into an environment at a low cost but with high precision.
"The output is one of the following: we're building an interface, such as a button; we're doing some sort of occupancy monitoring; or we're trying to measure something about the condition of a space."
From an interface point of view, Bare Conductive is working with, in particular, IKEA to integrate controls for lighting and other products into the surface of a table and furniture in general.
"You end up with an environment where every surface can become a control point and it's also, from a practical standpoint, much easier to use. You don't have to get your phone to turn the light on or off, or go to the corner of a room; you just touch the surface of the table or kitchen counter to control devices."
Matt believes the trend of blending functionality into the environment will stick with the ultimate vision being to simply turn an entire wall into a light switch.
That notion leads into the second function of conductive paint which is occupancy sensing. Matt believes that there is great potential for this application, particularly in the areas of security and also home health care.
"We see a real benefit in knowing when someone is there, specifically for home health care or for people who are
at risk and living alone. So we see a real opportunity in offering monitoring to see if someone has experienced a fall or some kind of event. There's also the security factor – is someone in your house that shouldn't be?"
From a commercial point of view, and given the ongoing COVID-19 pandemic, the ability to place these sensors behind other materials is crucial.
"Our sensor technology makes it possible to create touchless interfaces behind almost any material, without any
moving parts or seams. This means that these interfaces can be easily cleaned, monitored and maintained to prevent
the spread of bacteria and viruses like COVID-19. Having a smooth surface you can aggressively clean is very useful."
Finally, the last application involves environmental monitoring and Matt says that one of the key factors in this thought process actually comes from a plumbing perspective and the issue of water leaks.
"In the US, 40% of home owners' insurance claims are related to water leaks. We see, in general, a market that's fragmented between super high precision expensive leak detectors, and lower and very low cost and low resolution leak detectors."
But the challenge for this technology is the requirement to cover a large enough area as you can never be sure where a leak is going to come from.
"You want to catch the first drop but then it has to be cheap enough for you to put it everywhere. It's a super challenging set of requirements that fight each other."
Matt says that conductive paint is a foundation for all of these functions, offering the ability to create electronic circuits that are physically large enough to tackle a problem but still low cost enough to be affordable.
To that end, Matt says they are adamant that their technology is accessible and they have made development kits that anyone can engage in, no matter what their level of technical expertise is.
"We have to make sure that it's easy to get in – the floor is low but the ceiling is incredibly high. People can play with
the technology and start to imagine the potential. If they want to scale it towards a certain application, that's where we start to offer solutions to suit a specific use case or problem you're trying to solve."
Matt says that the combination of conductive ink and paint, and the smart home is a unique concept that people are
genuinely interested in.
"Sometimes we get told 'oh, this stuff is 20 years away' and we say 'no it's not, we can ship it to you tomorrow'!"
One group taking up the task of exploring and developing this technology is a research team at Carnegie Mellon University in Pennsylvania, US, who are developing a project called Wall++ which aims to enhance the potential of the humble wall.
Leading researcher Yang Zhang says that their project is still at an early stage of commercialisation but the vision is
that Wall++ will be able to localise users and recognise user behaviours such as cooking, watching TV, running on a
treadmill to power personal informatics and many smart home applications.
"Wall++ provides a unique sensing opportunity to smart home and IoT applications. There are several advantages compared to conventional sensing solutions. Our enhanced walls are not obtrusive. Additionally, Wall++ is lowcost
and easy to maintain. Unlike battery-powered sensor tags, Wall++ can be plugged in for power which significantly
lowers users' maintenance."
As part of the project, the team built their own 3.7 x 2.4m wall with tools and products from home improvement stores.
"In the future, we envision this technology to be built-in during the construction process of buildings, so home owners would not need to prepare walls themselves."
Informatics are a big factor in Wall++, Yang says, pointing out that from a medical point of view it could log routine
activities of patients with chronic diseases, allowing doctors to make better diagnoses. From a personal point of view,
it can provide a snapshot of a person's lifestyle and inform them on where changes are needed.
Yang says there is plenty of ongoing work on the project.
"The current sensing range for electrical appliances is about 3.5 metres which should be improved with better circuit designs and highly sensitive analogue frontends in the future. The scope of this project is still within research, with an ongoing research project that aims to improve Wall++."