Kordz' new cable provides strong connection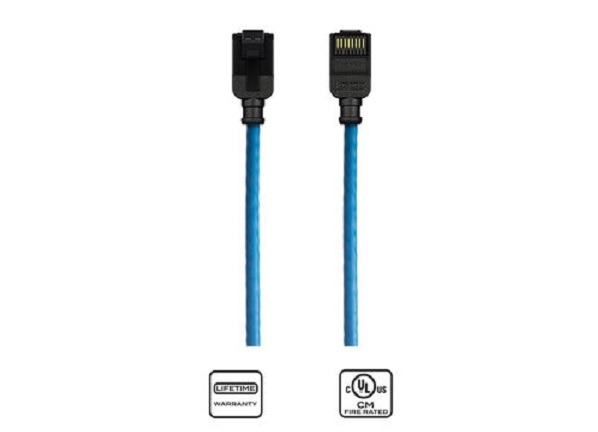 Kordz has launched its new PRS Series CAT6A Network Patch Cord, a slim-profile, high performance copper patch cord to provide a strong, reliable connection for high-bandwidth AV and smart home installations.
The new product will be on display for the first time at ISE 2020. It is a stranded 28 American Wire Gauge (AWG) U/FTP Category 6A shielded cable, suitable for 10 Gbps and POE++ rated networks.
Kordz has custom designed the RJ45 connector with a robust, anti-corrosion gold plated material, resulting in a more secure latching tab with a 15.2mm cable bend radius.
The tab itself is enhanced to minimise the risk of connector failure and will help to create a tidier AV rack, saving installation time and cost for integrators. The 28AWG oxygen free copper conductors and solid extrusion also offer maximum twist protection for greater cord flexibility and signal integrity.
The cable's 4.8mm diameter gives it a 40% reduction in area size when compared to traditional 26AWG CAT6A network patch cords. Every cable in the range is available in a choice of 16 lengths up to 30m.
Kordz managing director and head of engineering James Chen says: "On many projects, the network patch cord connection can be a common source of failure and massive frustration for professional home integrators. Connectivity Assured is the principle that underpins the design and manufacture of every Kordz product. This new CAT6A Network Patch Cord is a great example of this commitment in practice as our patent pending design dramatically reduces any issues with the RJ45 latching tab breaking or coming free under stress."