Brewery installs cogeneration system
A new brewery in Geelong, Victoria, is set to install a natural gas-fired cogeneration system to provide patrons with a 'cleaner' glass of beer. Dimi Kyriakou explains what electricians need to know about working with this type of technology.
To be honest, I'm not a fan of the world's most popular alcoholic beverage. No matter how much I've tried to succumb to the taste of beer, it's just not working for me.
Given this, you may say that the opportunity to write a brewery-themed article was essentially wasted on this journalist (especially considering that such a topic doesn't present itself all that often in a magazine for electricians).
There may be some element of truth to this, but – preferred alcoholic beverages aside – I can appreciate the fact that there are many Australian businesses making a concentrated effort to change their systems of operation in order to incorporate a cleaner, environmentally-friendly form of power generation. Whether it's solar, wind, or a combination of sustainable technologies, any attempt that an organisation can make to ensure the day-to-day running of their business is both efficient and kind to the environment should be commended, no matter what the industry.
So where does beer fit into all of this? Well, one recent example of a business adopting cleaner energy generation practices is Little Creatures Brewery. If you're based in Fremantle, WA or Melbourne (and you like beer), chances are you would be familiar with their brand already.
Since its inception, Little Creatures has strived to operate as an open and transparent brewery that is an integral part of the local community, rather than one hidden behind a brick wall or imposing gates. After tasting success in their Fremantle waterfront brewery and a dining hall that was established in Fitzroy, Melbourne, Little Creatures decided to expand their presence on the east coast of Australia and set up camp in Geelong.
Their latest residence is an industrial site with deep roots – the original wool mill was built in the 1920s. Needless to say, a lot of work has been done in order to maintain the original character of the building and make it fit for a brewery that can be accessed by the public. Over the past few months, the crew at Little Creatures has been busy demolishing floors, removing roofs (temporarily of course) and installing state-of-the-art equipment to transform this historical site into one that is fit for a 21st century brewhouse.
Amid the fermenters and grain silos is the star of the system – a 1200kW natural gas-fired cogeneration system which has been designed and installed by Simons Green Energy. Established in 1932, Simons Green Energy primarily focuses on cogeneration and trigeneration systems, as well as solar power and hot water generation systems, waste heat power generators, solar desalination systems and high efficiency hot water boilers.
For those of you who are unfamiliar with this type of technology, cogeneration is the simultaneous production of two forms of energy from a single fuel source. In the case of the brewery, the natural gas-fired cogeneration plant will supply electricity to the building, and the waste heat generated by the engines will be used to heat water for use in the numerous process heating applications.
Although it essentially works as a standalone technology, the brewery's cogeneration system will also be configured to run parallel to the grid, meaning that the only energy to be purchased from the grid will be that over and above what the engines can supply, which is expected to be very little.
According to Simons Green Energy chief executive Derek Simons, the cogeneration system is expected to significantly reduce the brewery's energy usage and carbon footprint.
"The system is technologically advanced and very efficient at about 85% conversion efficiency compared with 30% conversion efficiency for conventional grid-supplied electricity. With escalating electricity prices and the introduction of a carbon tax, the future savings for the brewery will be substantial – their energy costs will be reduced somewhere in the range of 50%," he says.
"The beautiful part about using natural gas-fired engines is that it makes electricity for the site which is cheaper and cleaner than what you can buy from the grid. Then there is the added advantage of using waste heat from the exhaust engines to heat the jacket water in the brewery, rather than using electricity for this process as well."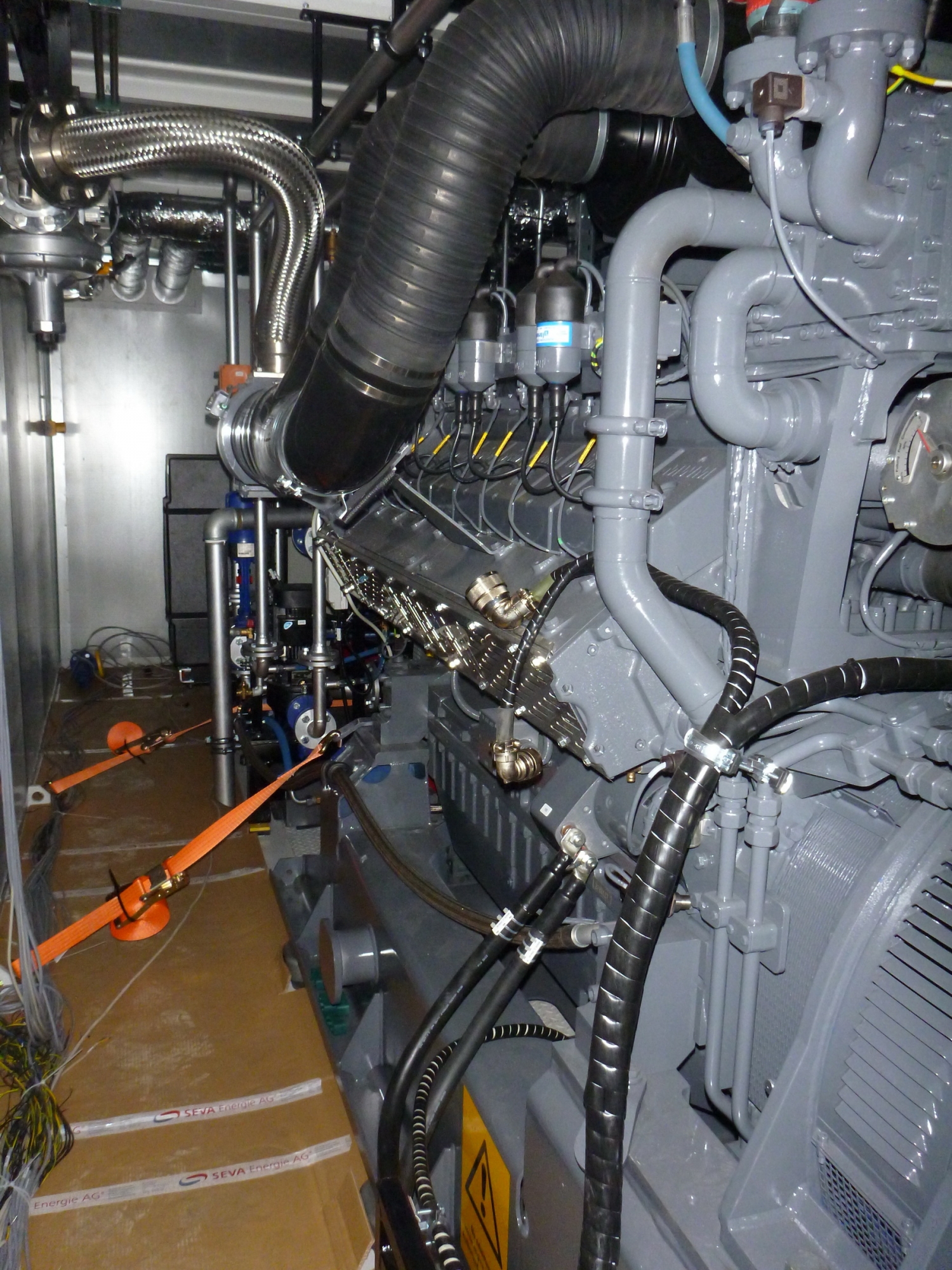 How the technology works
The cogeneration system for Little Creatures Brewery consists of two complete factory-tested package units, with the engine and generator sets housed inside purpose-built shipping containers.
Interestingly, the system is made up of two off-sized units: an 800kW system and a 400kW system. As Derek explains, the reasoning behind this both simple and logical.
"The load of the building was very high during the day but low at night when they weren't running all of the machines. So we designed and installed two different sized units to meet the different load requirements," he says.
"Cogeneration units can operate down to about 50% of their maximum output. If one of the engines is rated at 800kW, it will effectively run down to about 350-400kW. At night, the brewery site only has a load of around 250kW, so we can run the 400kW unit during the night and both units during the day.
"If we decided to install a single 1200kW unit, which is these two systems combined, we couldn't run it down to 250kW at night and it would be a waste of energy."
Once the heavy containers were settled into the place at the brewery, the installation process was fairly straightforward – a team of six installers connected the units to the gas supply, exhaust systems, electricity and hot water flow/return.
The good news for electricians is that no specialist skills are required in order to install such a system. However, Derek says that cogeneration has not yet reached the stage where it would be suitable in a residential scenario.
"At the moment, the dollars per kW for smaller systems is not viable right now. However cogeneration for larger buildings is still a lucrative market for electricians to look into, especially if you're looking to expand into other areas of work to buffer the predicted impact that the slashes to solar tariffs will have on your business."
Derek says the brewery chose to install a cogeneration system as it seemed to be a natural fit for purpose, given that breweries have a high thermal energy demand and the waste heat could be used efficiently for a number of applications. He also notes that the cogeneration system comes with many benefits, particularly the fact that it will take pressure off the grid during peak times of usage – the 1200kW of electricity that would otherwise be reserved to the brewery is now available to other users.
"The amount of solar panels you would have to put on the roof of a building to match the power generated by a cogeneration unit is significant. These co-gen units are compact and have a really big impact – they can run 24/7 and you don't have to rely on weather or sunshine to make them work. And you get the benefit of using cleaner energy."
The Little Creatures Geelong brewery is due to commence production in mid-2013. For all your beer-lovers out there, you can rest assured that this cleaner form of energy generation definitely won't impact the taste of the beer.
Businesses keen to pursue this technology may be eligible to apply for a government grant under the current AusIndustry Clean Technology Food & Foundries Investment Program, a $200 million competitive, merit-based grants program that supports Australian food and foundry manufacturers to maintain competitiveness.