CasaTunes multi-room audio system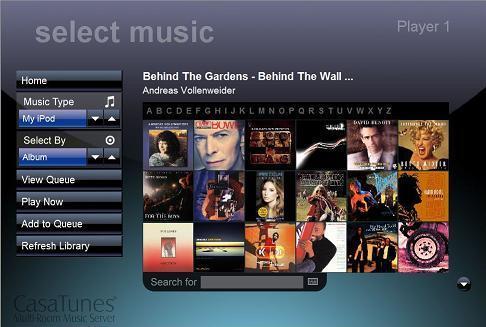 With CasaTunes you can experience content rich, menu driven selection of music throughout your home or office in as many as 48 rooms. CasaTunes has the ability to deliver up to 9 sources of music simultaneously. These sources can include internet radio, media player or other music stored on your hard drive, music stored on your (or your friend's) iPod, or just about any other external audio device (CD player, DAB+ radio, etc). The system is so smart that it can even play multiple tracks off your hard drive or iPod simultaneously, all with cover art.
The system can be controlled by several methods. As it is a PC based system, any computer on your home network can use a web browser to select songs in any room. There are also keypads which you can install in the rooms where you want easy access to your music without the need for a computer. The keypads also offer a huge amount of information such as track name, artist, progression, etc. Keypads can be finished in a broad range of styles with fascias from the Lutron range etc.
Also available is an iPhone / iPod touch interface which will allow you to walk around the home with your iPhone and choose the music in every room, all with the same rich content and cover art.
Another great feature is it's connectivity. The system can interface directly with both Nuvo and Russound systems. This can give you this content rich interface in addition to displaying track info on your Nuvo OLED keypads.